JEARRARD'S HERBAL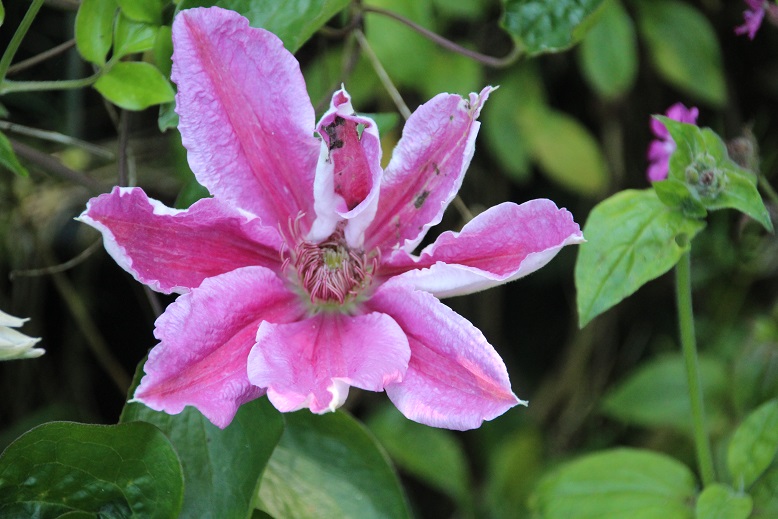 28th May 2017
Clematis 'Scartho Gem' .
I tend to forget to put my dustbins out. It isn't usually a problem. I recycle what I can recycle, compost what I can compost, burn the Radio Times and at the end of the month I am left with a small residue in the bottom of a black bag, representing my environmental sins for the month. Sometimes it is quite depressing to see how good I have been.
So on balance it has been a warm month. I was in a rush on Friday and I forgot to put the dustbin out. It has started to smell.
I have been reminding people that at this time of year gardens always try to spin out of control. Warm weather and a drop of rain while the spring growth is expanding, and everything needs doing at once. It is impossible to keep up. Every year it is impossible to keep up. Things will calm down. I have been reminding other people because I need to say it out loud. I need to keep the panic at bay. Whatever I do in the garden at the moment feels like wasted effort. The next day things have bounced back, all the time and energy and plants thrown into a dustbin of resources and carried away while I sleep.
So Clematis 'Scartho Gem' is a small reward for diligence. Planted at the back of the herbaceous border because I couldn't think of anything else to do. I wasn't really expexcting to see it again but it has thrived, camouflaging itself among the Red Campion which are left looking subtle and insignificant. I'm not going to care that at the top of hill the campion has overrun the hellebore bed. I will get to that eventually. Instead I am goint to take some flowers of 'Scartho Gem' up there and laugh in their faces.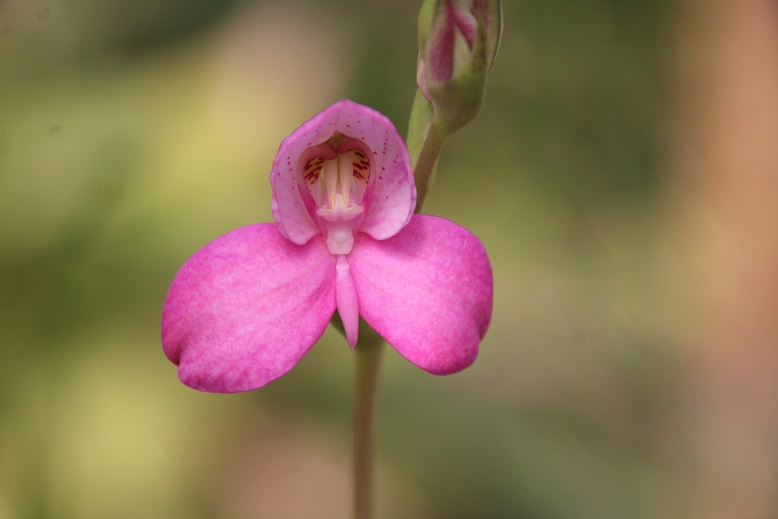 28th May 2017
Disa Kewensis 'May' .
What is that thing where you find yourself replaying one of life's scenes a a different character? The child grows up and tells off their own children for running around and making too much noise. I remember talking to a friends father who said he liked to collect together all the available members of a genus, grow them for a few years and then throw out the ones that weren't worth the bother. I found that incomprehensible. How could anybody possibly throw things out deliberately. Of course, those were the days of youth when gardens were infinite and plants hard to come by.
Down among the Sarracenia hybrids I have been throwing things out willy-nilly. Everything that just wasn't good enough for the space it occupied. So far I have kept all of the named cultivars but I am looking at them quizzically. Is that performing poorly or was it named by someone with no objectivity when confronted by the completely average attributes of their "dear little baby"?
Collect them all together. Throw out the duds. I get it now from a different perspective.
So the Disa have started, and I am determined not to buy any more new ones. I have thousands of seedlings coming along, I don't need any more big scarlet monsters. A number of forms of Disa Kewensis have been named recently, but I don't need any more of them. I have crossed a couple of forms and the first few seedlings to flower have shown variety so there is plenty of novelty at home without needing to buy it in. Perhaps that is maturity. I get the urge to run about making a lot of noise, but it's too late.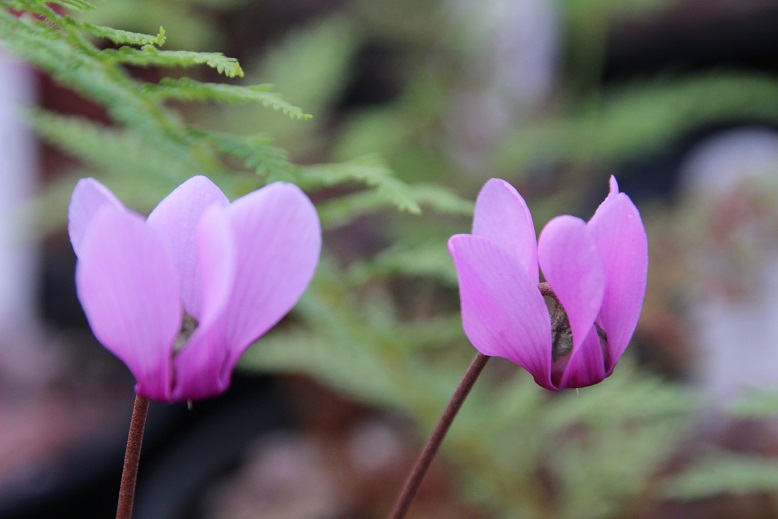 28th May
Cyclamen purpurascens .
I went away for the day yesterday, and when I got home everything seemed strange. Cyclamen purpurascens is in flower, neither spring nor autumn. The cyclamen that seasons forgot.
It is an odd plant in a genus of odd plants. It grows as far east as France and Italy so it always seemed like the local species, though I have never seen it in either country. Last week we had just enough rain to leave the ground looking wet as I walked under the trees and I remember thinking it was still too early to wake up C. hederifolium, they will be dormant for another two months at least. I had to look a second time when I saw these flowers in the greenhouse, but it is C. purpurascens, flowering before last years seed pods have fully ripened. In an abstract sense they are just a couple of plants being trialled in my new(ish) hydroponic alpine bed, but I'm already looking at the seed and getting some pots ready to sow it. I don't really like Cyclamen. I just seem to be growing quite a lot of them suddenly.
Lunch is also a little strange. When I travel I tend to buy junk food in case I get hungry. I never actually get hungry because I stop too frequently for coffee, so I arrive home with a selection of unsuitable lunch items. A flattened cheese and onion pasty and a suicidal doughnut (it overheated in the car and blew its own jam out).
Sunday lunch with the Cyclamen.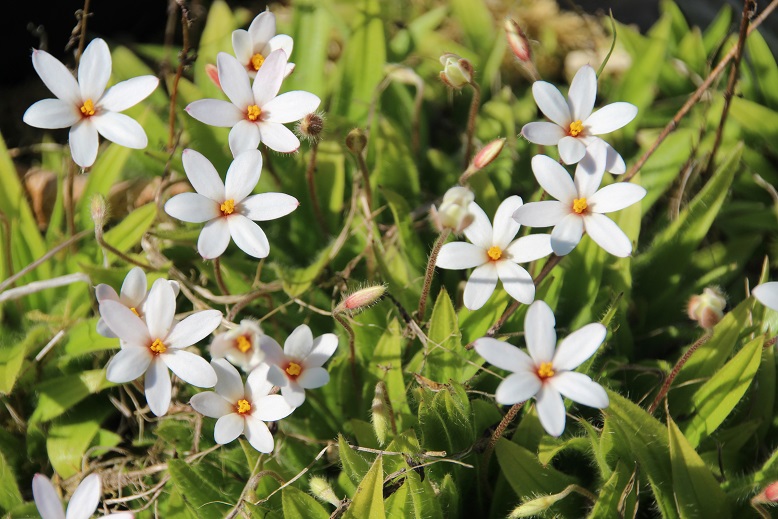 28th May 2017
Hypoxis parvula var. albiflora .
During the winter the Hypoxis and Rhodohypoxis die down in their pots and the meadow grasses take over. I should really dismantle them, weed out the grass and start again but I would end up with hundreds of pots of surplus corms. I just can't face it. So in the winter I sprayed the whole lot with a herbicide. It killed all the grass completely and a month ago, before the plants started to shoot, I took a blow-torch and burnt off all the hay. It was fun, I felt very smug.
When Hypoxis parvula came up, all the new leaves had scorched tips. I felt a bit less smug, but they have grown out of it. It is a mountain plant from South Africa, Swaziland and Lesotho growing in moist soils among rocks. I keep it wet through the summer and and it does very well.
In the established taxonony of the group, the yellow flowered H.parvula has a white flowered variant, H. p. var. albiflora described as "rarely seen" in habitat. Yet this is the only variety I have seen in cultivation. Pictures from South Africa show a plant with a pure white flower rather than the darker eye of this one. Perhaps this is actually 'Hebron Farm Biscuit' , one of a series of strange plants found in the wild on Hebron Farm that are now thought to be hybrids between H. parvula var. albiflora and a Rhodohypoxis. Hybrids are showing lots of potential with more being named every year but so far nobody seems to be using the yellow parent. Something doesn't quite add up, and I can't put my finger on it.
I might have to have another day driving so there is time to think about it.