JEARRARD'S HERBAL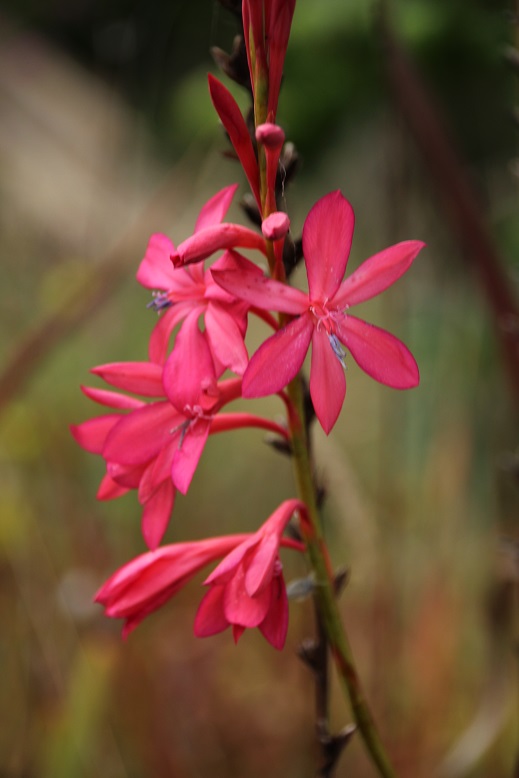 13th August 2017
Watsonia wilmaniae .
By a happy coincidence of unconnected ideas the weather has been protean, changing on every minute. I have started tasks in the garden in the drizzle until heavy clothes feel like armour, but not to the point of cold metal against the skin. The sun comes out and I steam gently for an hour until I am walking like a robot, clothes gently starched to rigidity as they have dried. The reason I don't call it changeable - I have had a protean week, or if I can be a little more exact, I have had a Proteacean week. I have been planting Protea.
It's a futile, pointless giddy whim and I have enjoyed it. A short section of south facing border against the house is now home to a selection of impossibly tender shrubs and I am planning to sit in front of it, enjoy the occasional sunshine, and consider some more reliable filler.
Watsonia are under consideration. They match the style and coincidentally I have a large number of hybrid seedlings that I need to trial somewhere. W. wilmaniae E will not be among them, but it was a timely appearance, I haven't shown it here for years but it has been quietly increasing.
It grows naturally in swamps and stream beds in a small area in the mountains of the southern Cape and is unusually variable. I grow a handful of different forms and have always assumed that there was a hybrid element involved but apparently the wild population is equally variable, it least in flower colour.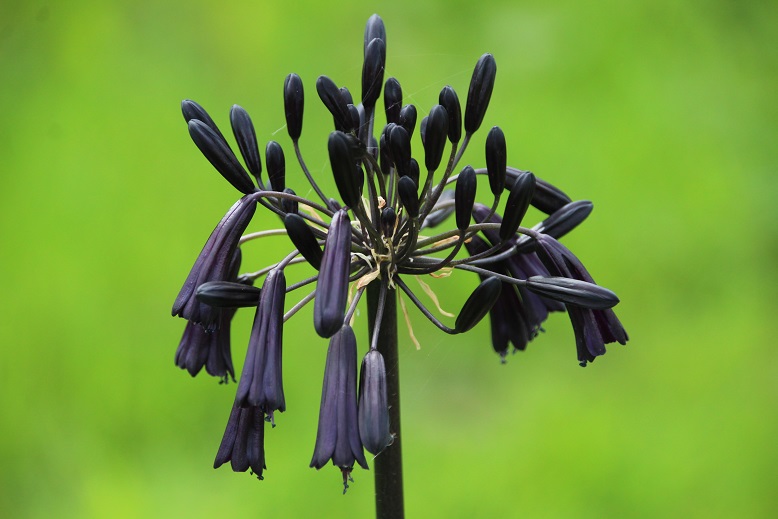 13th August 2017
Agapanthus inapertus 'Black Magic' .
The darkest flowered Agapanthus continue to exert a fascination in the face of all objectivity. I have been to a couple of gardens featuring displays of Agapanthus and the darkest flowers simply disappear in a garden context. At Wildside, Keith and Ros Wiley's garden, the upper slopes are filled with an assortment of cultivars. It is the rich blue colours that are amazing. The black and the white flowered forms are too quiet and too loud respectively. At the Agapanthus trial currently running at Wisley the plants grow in a river of blue shades. Really wonderful. The white ones foam like sea spume around the edges. The black ones add shadows, and perhaps I would miss them if they weren't there.
This is darker than 'Indigo Dreams' but the flower form is less impressive. There is an intermediate, 'Alan Street' that I don't grow yet. It is on the list!
'Black Magic' is usefully deciduous. I should plant it out in the border (I am determined not to put any evergreen ones out there) and see what I think of it in the ground. At present it is amusing itself in a large tub and would be a cheerful thing to move around the garden as it came into bloom, if I had the energy. It was raised by R. Jamieson in South Africa and shares with all A. inapertus forms the stiff vertical stems that protect it from squatting elephants - at least I assume it was elephants that flattened so many of the hybrids on trial. When I say it was a river, I mean it flowed at ground level.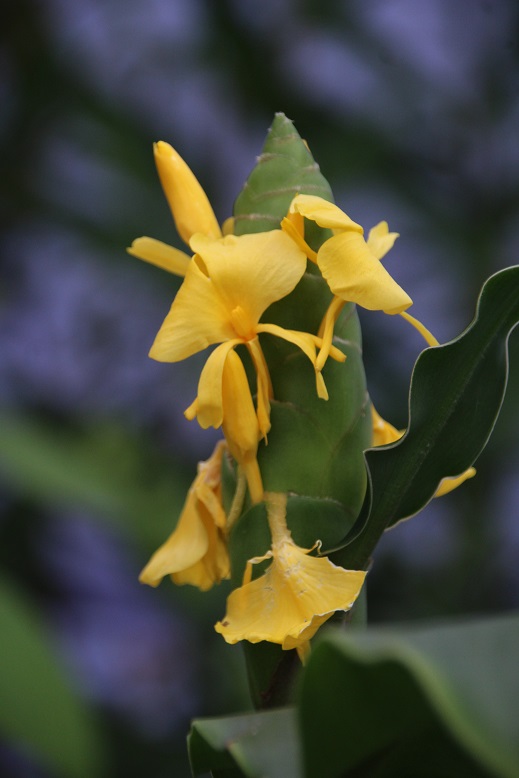 13th August 2017
Hedychium wardii RF.134 .
There was a period in June when it felt like the Hedychium house was under control. I was slow to remove last years stems in spring, so the fallen detritus clogged the paths for weeks. I finally got it done just as the new growth was starting and the house had a marvellous empty feel. In the last three weeks the stems have elongated from knee height to head height and it makes a profound difference to the effect. There are a number of people designing "jungle" gardens but they miss the point if you don't have to fight your way through them. Tarzan didn't swing through the trees because he worried about treading on a stone on the path. I have a Hedychium house, and if I took the slightest notice of my own advice, I would plant some more trees. Not sure I can still do the swinging bit but I can worry about that later.
Hedychium wardii is my favourite of the hardy species. The flower heads have an unusually exotic look and they keep producing flowers for several weeks. Bright yellow is a good colour against the lush green leaves. RF134 is derived from seed collected by Dick Fulcher and has slightly pink tinged stems unlike the earlier collection in cultivation which is pure green throughout.
There is no reason that it shouldn't be hardy, no reason to keep it in the Hedychium house, no time to do anything about it at present. Last week the first plant went into my developing Hedychium garden. It was a banana.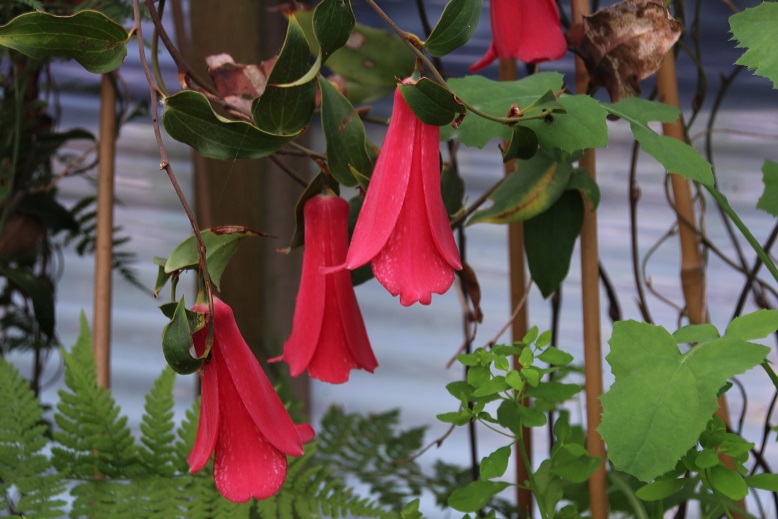 13th August 2017
Lapageria rosea .
I have had a couple of weeks in the garden when it was clear that spring had ended. Everywhere there were plants that had finished. This week there has been a subtle change of emphasis. I have a few pots of asters that have buds forming (don't ask my why I am growing them, I don't have a good answer, I have left myself out of the loop on that one). The Nerine and the gingers have started. While I was at Wisley I saw the first autumn colour on Acer rubrum. I won't be seeing it on mine, which never colours, but it served to remind me that autumn is approaching.
And then the Lapageria flowered. It would be better outside, it gets too dry in the greenhouse but I can't think of anywhere suitable in the garden. I watch it struggle and am amazed that it ever manages to flower. Amazed and grateful. Flowers aren't everything, but in the case of Lapageria they are quite a lot of it.
At the same time I have a single late flower on its closest relative, Philesia magellanica. Naturally I have cross pollinated the two. I think that should probably be "unnaturally" but no matter. Veitch last raised the hybrid in Chelsea an 1872. I'm not sure that it still exists. I have been interested in it for 40 years and I have never seen it, or even a photograph. I'm not expecting much from the seed pods, but it is worth a try.