JEARRARD'S HERBAL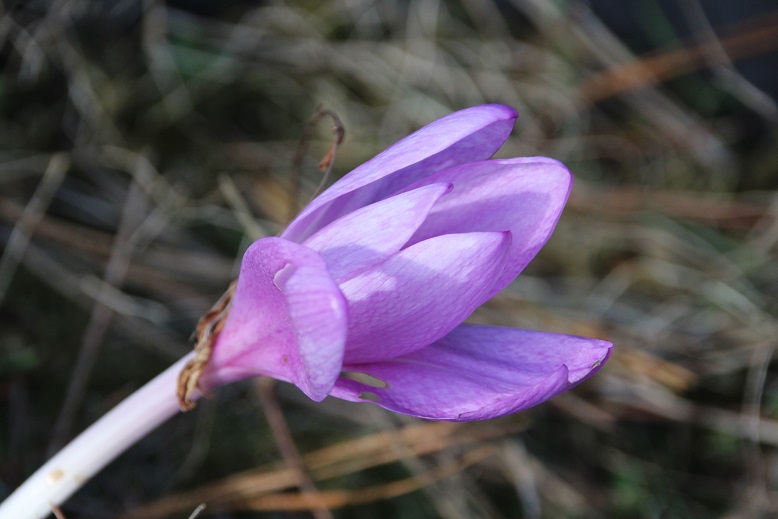 17th September 2017
Colchicum 'Lilac Wonder' .
There is a fictional state of completion in gardens. A point when all there is nothing to do but sit in a chair and marvel at the perfection. I spent all of the spring chasing it. I spent most of the summer chasing it as well, though I did get a seat out and sit in the sun for a while. I have spent most of the autumn trying to catch up with the impossible change of the seasons. I can't succeed but I have to try. I am still working towards the long sunny days of autumn when the garden basks in the late heat and already the season has moved on. I may be dreaming of asters but I am looking for Colchicum. The lilac flowers springing from the dew covered grass, the cold breath of autumn condensing in front of me.
'Lilac Wonder' has emphasised the change. Last week I had C. agrippinum, earliest of the group and now faded away. This week 'Lilac Wonder' has emerged. My notes tell me I planted it in 2005, but I don't remember. It feels as though it has always been there trumpeting the chill.
Colchicum have been drawing me up into the garden daily. Last year I planted a large drift of 'Waterlily' and any day now they will appear and cover the ground with their wonder. Probably. In my head anyway. They were already in flower when I planted them last year, as is often the way with Colchicum, so I saw a glimpse of the promise but it didn't look settled. This year it will be amazing. I go up to see them every day, just to be sure. Nothing yet, but the weather has been cold and wet enough so they won't be long.


17th September 2017
Nerine filifolia .
Nerine filamentosa (which this flower pretends to be) has long been a problem waiting for a solution. The distinction between it and N. filifolia has been difficult to define. I have been asking people if they know and recieved little but wise nods and empty answers. Dr John David from Wisley published an article in the Nerine Society journal (2016 part 1) clarifying the situation. My N. filamentosa may be part of the variable N. filifolia or it may be valid as a species in its own right. Plants were described from stock growing in Kirstenbosch without records of the wild origin and it has not been rediscovered since. In the meantime another plant was discovered by Cameron McMaster in the Eastern Cape that was assumed to be N. filamentosa though it is distinctly different from the original stock.
Graham Duncan has just resolved the issue. The old N. filamentosa has been absorbed withing the variability of N. filifolia (I should change my labels). The plant found by Cameron McMaster has been named N. macmasteri. I checked my two plants of N. filamentosa, one is flowering, the other showing no sign at all. When I check my past photos one is clearly the stock now part of N. filifolia the other is equally clearly N. macmasteri. I am going to be unspeakably frustrated if the latter is dead just as I understand the difference.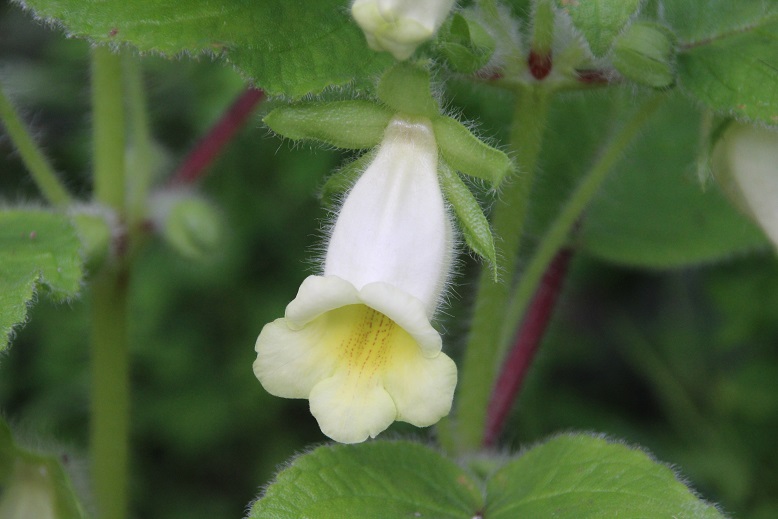 17th September 2017
Sinningia conspicua .
I think of Sinningia conspicua as part of the cold kiss of autumn, though it flowers in the greenhouse in the last of the summer heat. It emerges late in summer and the stems grow until the days shorten and buds begin to form. Every year the flowers open as the cold weather starts to bite and usually there are sections of fleshy leaf collapsing into brown mush as the first flowers open. You might (won't) have wondered why I always show pictures of a single flower but now you know the reason. This year it is early (or the season is late) and I have a decent stem of flowers from the tuber. Even so I am expecting it to collapse at any moment, the cold grasp of autumn rot seems to lurk around it, hiding in the shadows and waiting for the sun to go down. One morning I will go down to the greenhouse and the air will be chilled with condensation. The homely flicker of warmth that greets me when the door is opened will have gone, and so will the top growth of Sinningia conspicua.
It seems to survive perfecty adequately in the greenhouse, but it would prefer to be heated. When it was introduced there was a suggestion that it would grow outside but I think it can be discounted. The tuber might survive the cold, but I can't see the plant trying to flower until Christmas and by then the growth would have been killed. Instead, it is redolant of the clammy wrapping of fallen leaves and freezing breath that is to come.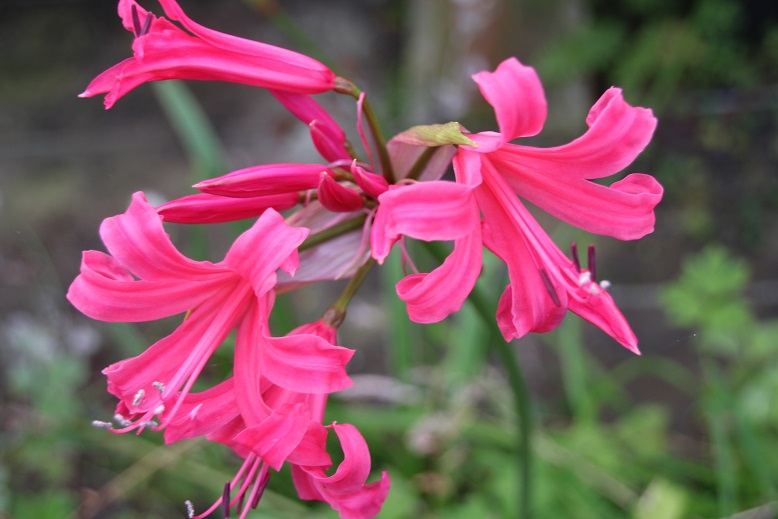 17th September 2017
x Amarine 'Wildside' .
Buck your ideas up, John, seasonal cheer and all that. x Amarine 'Wildside' like the wobbling chins of on operatic diva. Loud and high and forceful but not even a suggestion of screaming. Powerful and harmonious pink. There has been a group of new x Amarine clones introduced from Holland under the collective name Belladiva. The five original clones have now received cultivar names and they are becoming very popular especially as cut flowers. 'Wildside' is an odd thing, much brighter than the new clones of x Amarine. Much brighter than the traditional clones. So much so that it looks just like a Nerine to me. There is a stock being distributed as N. 'Fucine' (spellings vary) that is very similar thouggh it flowers a couple of weeks later and N. 'Zeal Giant' could be its identical twin in a fortnight. Another one of those queries that will puzzle me for years until the pieces drop into place.
If it lives that long. It is riddled with virus and the only reason I still have it is that it is too good to burn. Virus infection remains a problem among Nerine (almost worse than mealybug) and there are a few clones I can't bear to part with. I started to isolate them and grow them in a separate greenhouse to keep it from spreading but I am running out of space. I am in the curious position of considering building a new greenhouse just to house the sick Nerine. A flowering isolation ward. Perhaps I should follow the lead of the Canna growers. Select new seed strains and throw out the old virus ridden plants. Gloomy autumnal reflection holds me back. Old Nerine are animated by the will of long dead breeders, a last spectacular operatic gasp and shudder before the winter curtain falls. Hold your breath, the fat lady is singing.