JEARRARD'S HERBAL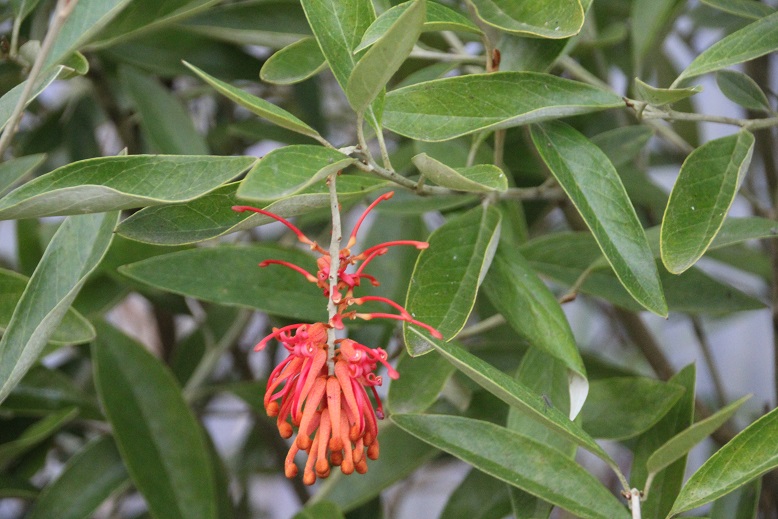 24th December 2017
Grevillea victoriae .
I don't think we will be seeing a white Christmas this year. I haven't really noticed the rain falling, it has come as light drizzle over the last few weeks, but it has been building up. On Friday I abandoned my plans to clear out the lower branches under the trees as a result. The falling rain wasn't a problem, but every step threw up a splash from the saturated ground. It's on a hill, so it will drain away in no time but I have my fingers crossed for the houses at the bottom of the hill. It will drain down to them by about lunchtime tomorrow. Santa may well arrive on a boat pulled by swimming reindeer.
The snowdrops will ensure that it is a white Christmas in parts. They seem to open more widely in the drizzle than in the warmth. I have often wondered what tempts them open, it doesn't seem to follow an obvious pattern. It should be temperature but I think humidity is also playing a part.
A flash of red outside the Agave house attracted my attention. My poor old Grevillea victoriae has forgiven one more indignity. It grew inside the Agave house and I cut it back repeatedly to a stump, assuming that the shock would kill it but hoping for the best. It bounced back repeatedly. Finally I was forced to yank it out of the ground and move it outside, it was just getting impossibly big. Grevillea have a reputation for disliking disturbance so once again I assumed it was dead. Not so. A year or two later and it has started to flower again. I am amazed.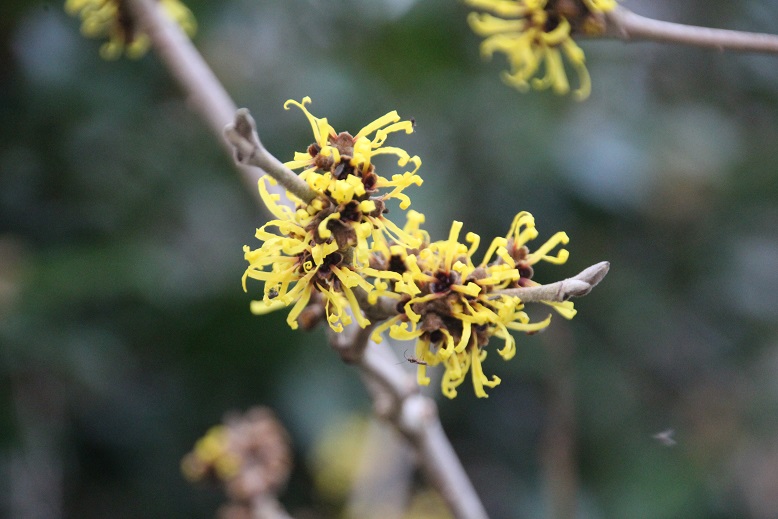 24th December 2017
Hamamellis mollis .
We had a little chill a week or so ago. I was wondering how it would develop. The first chill of the season isn't usually very serious. Cold weather blows in suddenly and then blows out again. In the event I don't think we had a frost at ground level. Chilling winds gave the bananas something to think about and a few dead branches rattled out of trees, but nothing much seemed to change, the garden is still heavy with moisture and autumnal decay. I wondered if the cold snap was going to trigger the Camellia buds to burst in synchrony, but they have resisted. They are going to do their own thing in their own unpredictible time. The Hamamelis also had branches crowded with fat buds, and they have responded to the call of the cold. They are a few weeks early, but the chill has been sufficient.
The earliest forms of H. x intermedia have produced a flower or two. 'Diane' is making an inconspicuous show and the blooms of 'Jelena' are hidden under the clinging leaves but H. mollis has burst into full flower in the last few days. It is currently unscented, perhaps the wind and mist are conspiring to remove the perfume, but if we get a still, dry day then I hope it will carry around the garden. I planted it on top of the embankment sheltering the Agave house in part so that it would be best displayed and the perfume could fall down towards me.
Mostly it went in because there was a space.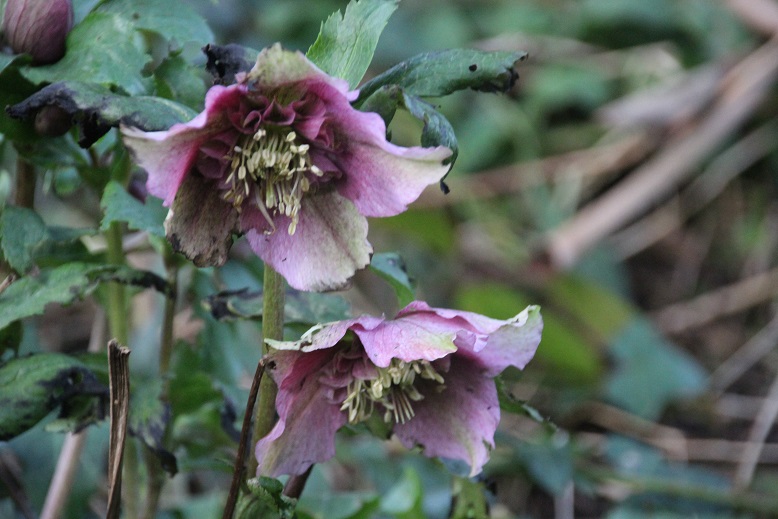 24th December 2017
Helleborus x hybridus .
The management of Hellebores continues to frustrate me. The Hellebore border takes more time than I can spare and something will have to change. There are two problems with that. The first is deciding what it is that has to change. The second is changing it. I certainly need more room. I need paths and access to get in to it or I will never do anything. I'm not sure where the paths go, or how to arrange it and that is holding up the second stage, actually changing it. I started clearing some shrubbery in the summer so that I could put in a diamond grid of pathways through it. In the time it has taken to achieve that, I have changed my mind. The long border will have to depend on a mixture of mowing and herbicide. I need to encourage those hybrids that lose all their leaves at the end of summer so that I can spray the bed. I prevaricate, not wanting to lose some of the inconveniently leafy plants but something has to change. Perhaps the new year will deliver some resolution.
In the meantime this deeply ugly hybrid has flowered under the eucalyptus and I welcome it in the way a mother welcomes a small child covered in snot. I am very pleased to see you and the snot thing doesn't really matter.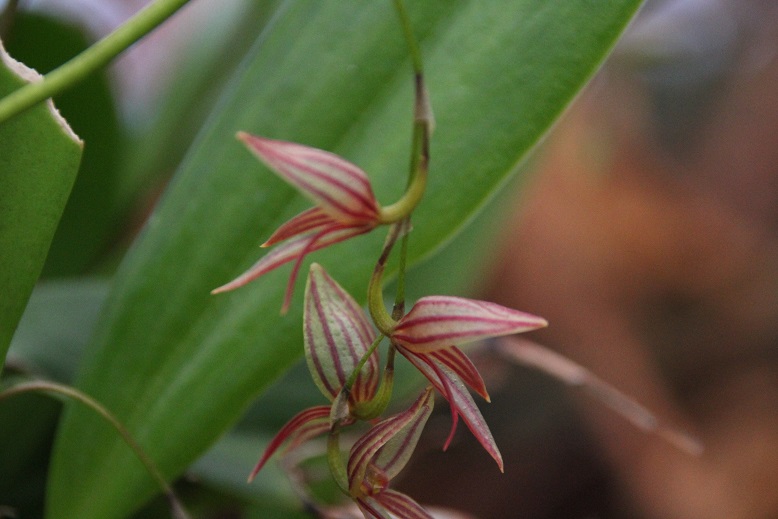 24th December 2017
Pleurothallis lindenii .
The cold snap did remind me that winter would come. I walked down the garden looking at the Chlorophytum thinking they had all survived well. Then I remembered what cold nights were really like when the ice penetrates every corner of the garden. They won't be looking quite so perky then. I moved them all into the greenhouse.
I bought a couple of large lights, installed them over some old aquaria and brought the tiny orchids indoors. I don't know why I grow Restrepia. I think it is just because they are tiny, it's a sort of insanity. Putting things in boxes is another fixation, so they tick a couple of those.
I went to check the Pleurothallis, they are easier to rationalise. There was P. lindenii in full flower, a dozen spikes dangling through the tangled growth, I have never seen it looking so good. Once more it is coming indoors for the winter, another inconvenient problem not solved.
It comes from the wet cloud forests of Columbia, Ecuador and Peru up to an altitude of 3350m, surely it would adapt to a plastic greenhouse in Cornwall? Next year, for certain, it is staying out there.
Really. Absolutely.