JEARRARD'S HERBAL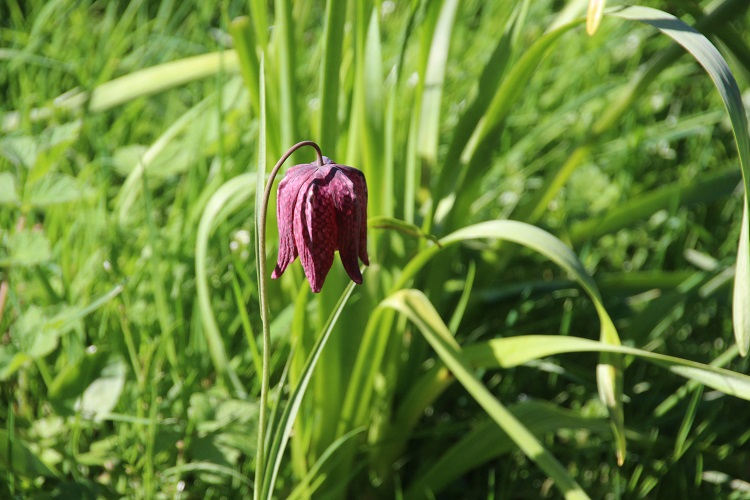 22nd April 2018
Fritillaria meleagris .
Summer arrived in a swift strike like the bite of a cobra. The sun came out, the temperature went up and by the time I had left the bathroom in the morning I was exhausted. The sponge of the garden is still half full of water so growth has been rapid. The grass still has a "mowed by rabbits" look to it, but I can see the start of unruly behaviour near the hedges and around the base of trees. I watered the greenhouse last week and it was clear by thursday that I was going to have to water again this week. I hadn't planned for it, so I had a couple of late evenings dragging a hose around while the jackdaws settling in the trees for the night made laughing sounds and the sun moved on to toast the Americas.
A tiny shadow of purple-brown in the meadow caught my attention. I thought I had an exotic litter problem but on closer examination it proved to be Fritillaria meleagris. When I look back it seems I last planted fritillaries up there in 2007 and it has been a few years since I saw one. I had assumed that the rabbits ate them as soon as they emerged and it was pointless to put any more in, but perhaps I just have to be patient and keep planting. I don't think I will ever have a delightful carpet of shadowy shapes among the fading daffodil leaves but this single flower caught my eye, so a few more might be a tessellated triumph.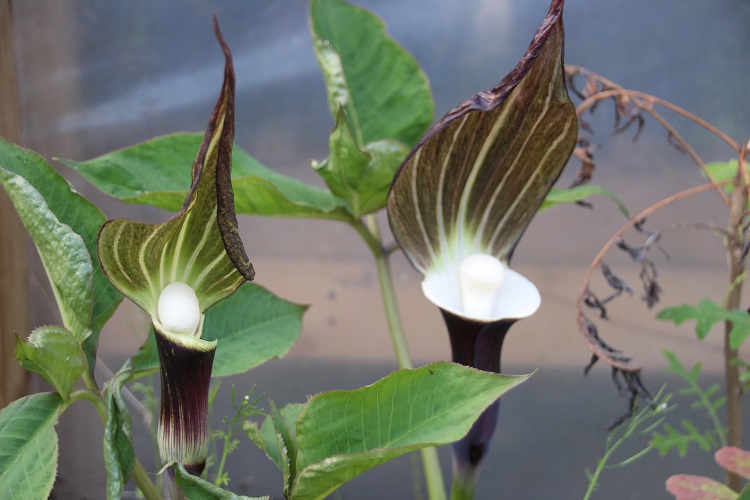 22nd April 2018
Arisaema sikokianum .
There is a danger to anthropomorphising the vegetable kingdom, but it is hard to resist. I went garden visiting this morning and needed a cup of tea as soon as I arrived. There was a fresh strawberry sponge looking as delightful as a fresh strawberry can manage, slickly sliced and bathed in cream. I knew before I started that it would disappoint, there was no other possible outcome. It didn't stop me trying it however. There was no other possible outcome.
Arisaema are like that. Impossible to resist even though long experience suggests they will disappoint. Shiny pictures of the flowers reflect a world of bright joy; the knobbly muddy tuber is a more honest suggestion of the experience to come. In the first year they are wonderful, naturally. In the second year they are generally missing. Like supermarket orchids on a windowsill, they are "difficult". Of course they are no such thing, they just require conditions the the British Summer can rarely supply. I have watched them growing in a friends poly-tunnel like sinister cabbages and I have finally got around to giving them some serious heat while in growth. It isn't possible outside so they have to be grown under cover.
The result has been that A. sikokianum has flowered for the second year, and even increased. I will root around in the old pots of promise to see what tubers remain in the collection, and bring them into the warmth. I am tempted to put up a little greenhouse just for them so that I can revisit a genus I have been killing for decades. A sort of apology to the vegetable kingdom for my persistent stupididity. They say that madness is repeating the same action and expection the outcome to be different, so perhaps they could also trounce my madness.
The anthropomorphism however, will remain.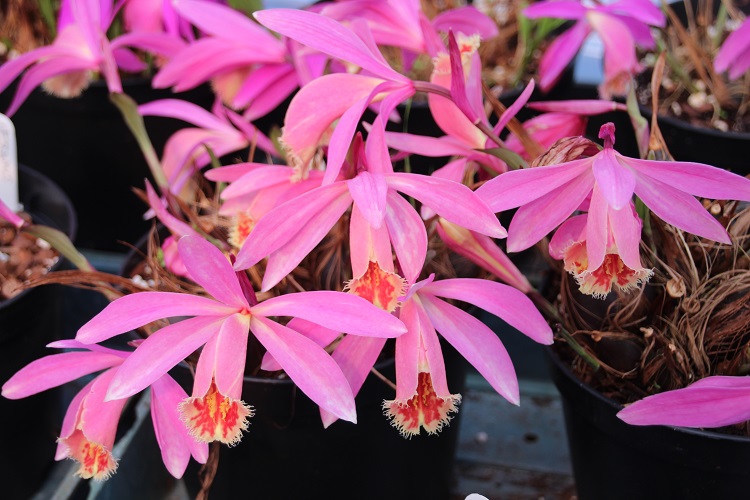 22nd April 2018
Pleione Rakata 'Locking Stumps' .
There comes a moment when it is clearly too late to hold back and you just have to go for it. I slipped over in the garden during the week. I stepped backwards, foot caught in a bramble and over I went. Plenty of time to think about things. Is it a soft bush or a prickly one? It was a Pieris, so a brittle one. Time to spread the arms and hope to minimise the impact. The taxonomy of a crisis. I have a few scratches and the Pieris has been rounder but we both survived the moment. In the recent snow I could see children sledging on the other side of the valley. Climb abord, set events in motion and then let it happen. The moment is there if you overtake a bus, or it might happen on a country road at midnight. Two happy badgers could be having sex on the tarmac and as your headlights caught them in the eye you might recognise that it was too late to go back now. A polite motorist would come to a halt, dip their headlights and look the other way nonchalently until the road was clear.
So it is with Pleione. In the warmth they have gone for it.
P. Rakata 'Locking Stumps' has never been this good. It is possible that wisdom has increased with age and I am just growing them better. I am using larger pots this year and I think that should suit them. However, I think it is more likely that a sudden change to hot weather after a cold spell has synchronised flowering. It will be one of those years for photographs of the general impression and for paying less attention to the detail.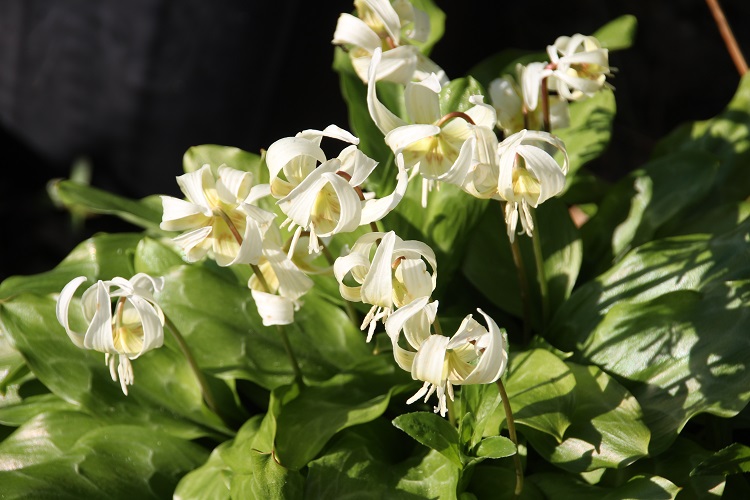 22nd April 2018
Erythronium 'White Swan' .
Just as the Pleione have risen to a peak in the greenhouse, the Erythronium have matched them outside. The collection isn't looking spectacular. In truth it looks a bit ragged, but that's because I keep adding new things. However those that were looking established are looking lush, those that went in last year are looking established and those that went in this year are looking less crooked than they did when they were planted.
The woodland carpet of E. 'Pagoda' remains a work in progress. I think it may peak next week, time will tell. It isn't going to be perfect, the three waves of planting are still clearly distinct but most of the bulbs are growing. A perfect moment is on the cards (at some unspecified later date).
I don't know what to make of 'White Swan'. It looks exactly like 'White Beauty' to me but distinctions between white Erythronium cultivars are always going to be slight. I can't find any reference to the name anywhere else and the plant came from a nursery that would have bought the bulbs in from somewhere. I still have the label and am tempted to think it was a slip of the mind while the nurseryman was printing them. Still, you can never be quite sure. 'White Beauty' should hit a peak during the week as well, so I will have a close look.
Either that or the heat will continue, everything will shed its petals and by next week we will be deep in the clutches of a drought. I am trying not to take ony notice of weather forecasts and, unless the Arisaema have cured me, I'm going to continue to hope for unexpected outcomes.