JEARRARD'S HERBAL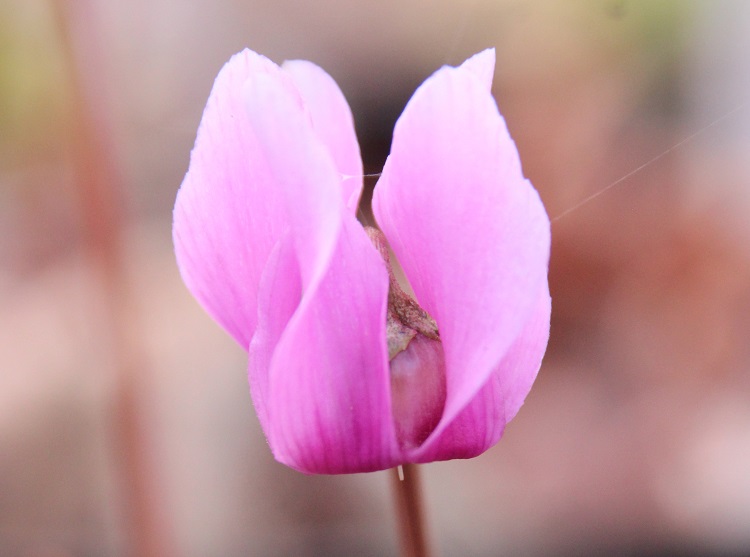 15th July 2018
Cyclamen purpurascens .
Again and again through the last weeks there have been suggestions of a change in the weather blowing in, some hint of cloud overnight, a cooling of the evenings, but they have come to naught. Another hot week.
Cyclamen purpurascens is a summer flowering species and fills the gap between the last of the spring species and the first of the autumn ones. With cyclamen in flower for twelve months of the year it is difficult to think of a "cyclamen season" the focus of attention simply switches from one to the next as the months tick by. In reality they flower from autumn through to spring and anything outside of that arrangement is just odd.
It is like the holiday season. There are always people on the beach but the focus changes. In spring and early summer it is a more elderly group being quiet and undignified. Then there is a rush of young people as the exams end in June. An invasion of families in the school holidays and then a return to the undignified elderly in the last rays of autumn sunshine. There is a season on the beach and the presence of Christmas Day surfers and New Years Day dippers doesn't change that.
So cyclamen flower in the autumn and spring and Cyclamen purpurascens doesn't.
It is here as a stand-in for the start of the cyclamen season proper. The heat and dry weather are holding Cyclamen hederifolium back. No sign of growth at all. One thunderstorm is all it would take. A drop of rain and they would burst from the ground like the undead in one of those unwatchable movies. The tiny pink undead with their nodding heads and cheery disposition. One thunderstorm is all it would take to have them rioting quietly under the trees. They don't even need staking.


15th July 2018
Rosa 'Sweet Wishes' .
Roses are to gardens what sheep-dogs are to hill farmers. They gather it all together when it really matters, make it all more concentrated and meaningful. When the last rose petals shatter onto a carpet of autumn leaves you can almost feel the hill farmers open the gates after the autumn sales and tell their beloved sheep to bugger off into the hills.
I have mixed feelings about roses, that may be the attraction. They have a collection of clashing attributes like lemon and sugar on a pancake. Perhaps roses need the problems that go with them to have appeal. I am weeding the herbaceous border. It is very satisfying and very painful. Most of the damage is being done by brambles but every now and then I grasp a handful of trailing rose stem and give it a good yank. I'm not sure why I planted them in there. I have a feeling that there was a space (which is the reality of planting design).
It has been a couple of years since I have noticed 'Sweet Wishes'. The deep red flowers are darker than romantic red roses and they don't have the classic shape. It's a modern "ground cover" rose, a task it performs abominably badly. Better to think of it as stunted and scentless. However, it doesn't get disease problems. The foliage in mostly unmarked.
I have pulled out the brambles and nettles that were threatening to engulf it and my own arms and legs are scratched and stinging. It's a trade-off.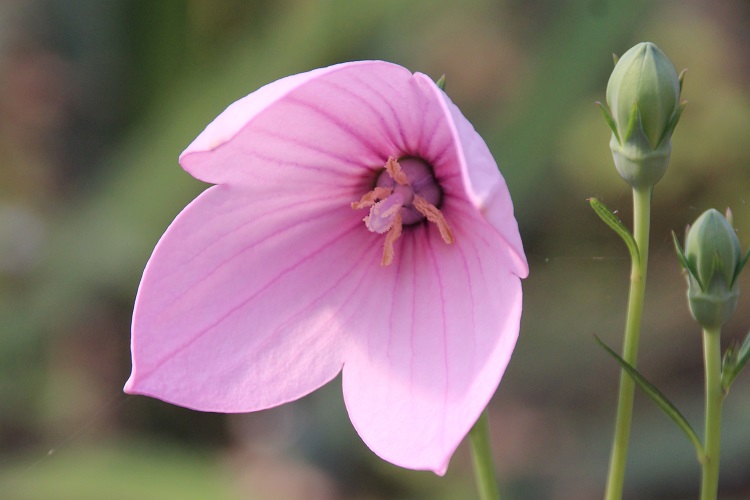 15th July 2018
Platycodon grandiflorus 'Astra Pink' .
I have a little corner of Mexico where the Agave prosper. I lost a couple in the winter but there was surprisingly little damage in the Agave house. The South African aloes are another matter. They have softer leaves, they are altogether friendlier to deal with and only a handful have survived. It may be less than a handful, I can only think of two survivors but I am probably forgetting something important. A lot of that going on at the moment. Perhaps if I had an Aloe House they would feel more welcome and survive better but I can't be bothered. Aloes are one of the groups of plants that I know I should really be passionate about but which I view with tepid appreciation.
Platycodon grandiflorus comes from China and Japan (with spillage into Korea and Russia). The natural populations are as blue in flower as any Campanula will ever be. You would call the colour blue if it turned up in a painting but if it was a picture of the sky you might wonder what substance the artist had been abusing. The Japanese have been working to breed stains that are shorter (pot plants) and taller (cut flower) and in the process have developed both pink and white strains. In a rare attack of taste I decided that I wanted to grow the pink ones among the steely blue-grey Agave. This one has survived the rather extreme drought conditions up there, the fleshy roots that store nutrients and give it a competitive edge in its native meadows also help it to endure in the company of Agave.
The Agave house needs weeding but the heat and prickly companions make it unendurable for me, so it isn't going to happen.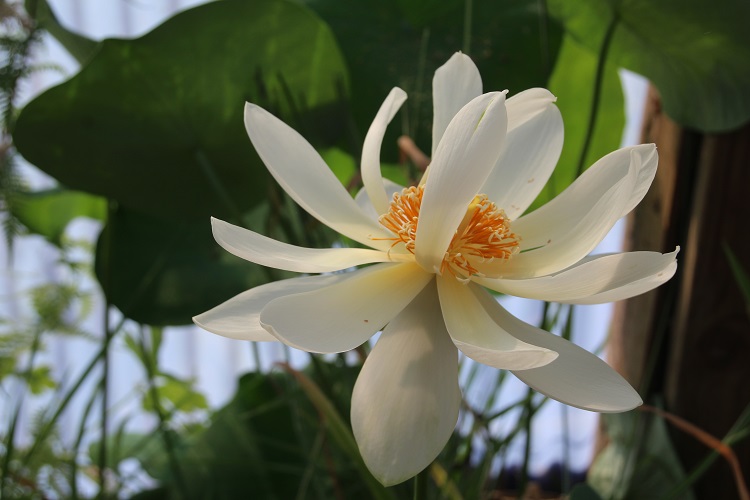 15th July 2018
Nelumbo nucifera .
I seem to spend my whole life weeding in the sun, the sweat pouring off me onto the parched soil. I am trying to make progress while the ground is dust dry, once it is moist again things will be much harder and messier. Still, it is a labour. I break off to do the watering. I try to set things up so that plants will need the minimum water through summer and to make sure that every drop of water ends up doing something useful in a pot. I'm just too lazy to waste effort watering the space under the benches in the greenhouse. Every drop that falls there feels like a moment longer before I can go to bed - the ultimate daily luxury.
There are times when a hot summer feels like a despicable curse on the lives of gardeners. I should build a hot-tub in the middle of it all and laugh in a cheery fashion at the surrounding dessication. Instead, I put up a small Lotus House. A little corner of the Agave House sealed from the outside air, where the temperatures can soar. I have a couple of lotus growing in large tubs up there and they have been slowly declining, needing more attention and flattery than I have been supplying. A fat bud on Thursday showed that the heat was to their liking. It almost opened last night and this morning I went up to see it as my Porridge was cooking (microwave, it didn't need stirring). Lo, an amazing lotus, a physical manifestation of the joy of a roasting summer. One of those moments that transcends gardening, you can't really plan to be astonished or cultivate the ground for astonishment. You just have to be there at the right time. Already the first tepals were dropping, three of them floating (ha ha) on the indescribable sludge it grows in. The fragile transience of the moment adds something precious. I can feel the flower shattering as I write this, knowing it has only a brief moment in this heat.
Bugger blogging, I'm off to see it again!