JEARRARD'S HERBAL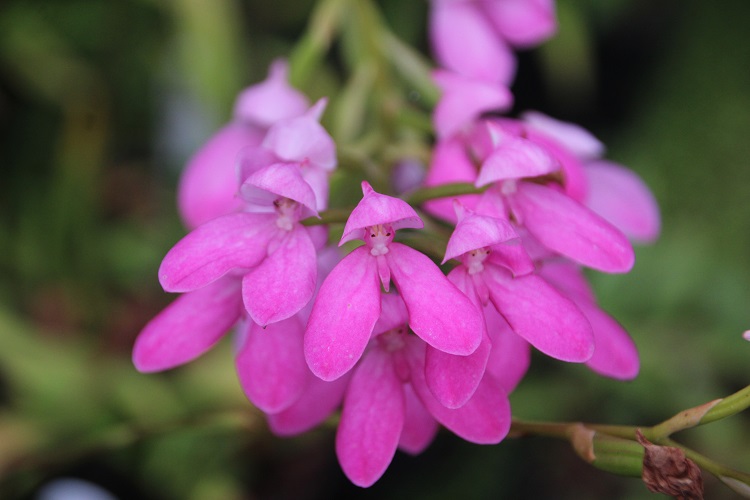 19th August 2018
Disa (triptaloides x Reheat) clone.3 .
The weather forecast keeps saying that the hot weather is returning but the cloud persists. I am happy. We haven't had much rain this week but it has been cool. I have a watering can that sits under the overflow from the water tanks and twice this week it has refilled itself overnight. I didn't notice any rain but the ground was damp in the morning.
The Disa are showing the signs of the receding summer. The flowers are fading. The cool water of the last couple of weeks has helped to refresh them but even the last of them will be gone soon. This one was part of my "cross it with D. tripetaloides" phase of hybridising. I was looking for smaller, compact plants with bright flowers and I have produced a few. This one was along those lines when if flowered first last year. It wasn't amazing but it was interesting enough to keep. I raised six or eight seedlings and they were all very similar so I kept three and put the others aside. This year I have gone back and rescued them from the "spare" greenhouse, they all have interesting features. This one had short flower spikes with three or four buds last year but this season it has produced a tall thick spike with twenty or more flowers. It doesn't show in the picture, but there are still a couple of buds to come and it has already looked good for a couple of months.
It isn't what I was expecting but it is good.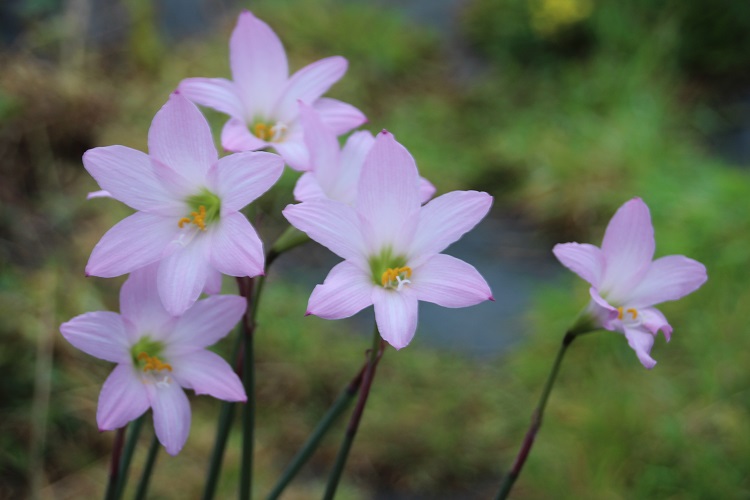 19th August 2018
Habranthus robustus .
It is the middle of August, the height of summer. There are Dahlias in gardens that haven't got into their stride yet. At the same time, autumn is apporoaching. I went to Rosemoor yesterday and saw the first Aster in flower. None of them are Aster anymore, but they are still Michaelmas Daisies. The first "red" butterflies are gathering on the Buddleja (Red Admirals, Peacocks, Small Tortoishells) and there is a little puddle in the middle of my garden seat every morning where the dew condenses but can't drain away.
I have started to water the Nerine. I don't really stop, but during the hottest weather I do it when I can be bothered and don't worry too much. I repotted all of the Hippeastrum in the hope that it would cheer them up. I have also moved them away from the Nerine and onto a bench where they will be watered through the summer when they are trying to grow. I'm sure it will help. In the process I came across this pot, originally obtained as "Hippeastrum sp. Brazil". The air seemed to crackle with excitement the day the first flower spike appeared. It was Habranthus robustus and although I spent a few hours in denial I was eventually forced to face the facts. Since then I have carried on growing it. I have had lots of slight variations of the species, most of them I have given away, but this one has been difficult to part with. It is the dullest pot of dormant bulbs possible to imagine for most of the year, but a week or so after it is watered in the autumn it will produce a flush of large pink flowers. They don't last very long and although it will produce some more later it won't look this good again. By tomorrow it will have returned to dullness. Perhaps I keep it because it provides evidence that the autumn watering has got through. All of the plants have got the message, the Nerine will follow.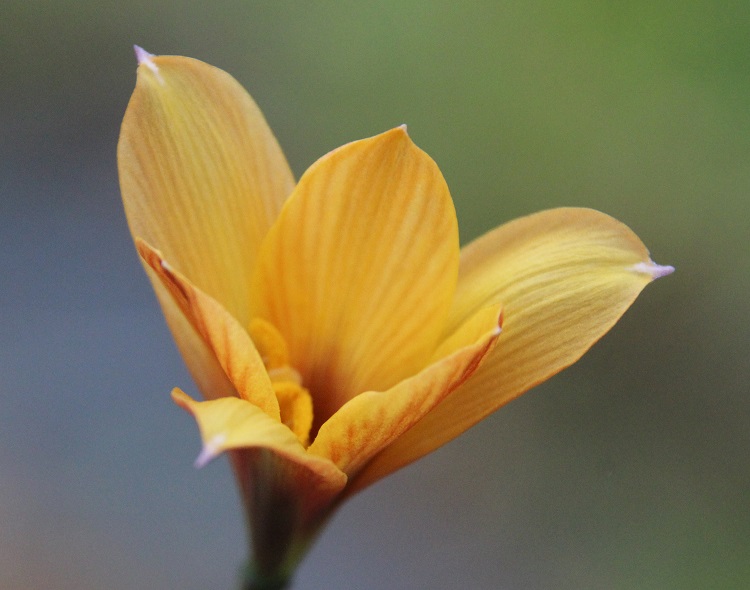 19th August 2018
Habranthus tubispathus and not Rhodophiala araucana .
There is a slapstick convention that a man can stand on a rake and be hit in the face by the handle. I don't think it could actually happen but I always try to put my rake down so that the teeth stick in the ground. I don't think it actually happens but I don't want to try it.
There is something unappealing about being hit in the face by inevitability. Take the Rhodophiala for example. Close relatives of Hippeastrum. I find them difficult to please and it is comforting to discover that I am not alone. There is some feature of the natural environment that we are all missing, some cultivation quirk that is still to be discovered. If I had some spare bulbs I would try them in ridiculous places and see what happened. There is something still to learn. For all that, as the Habranthus flowers emerge to tell me that the water has penetrated and woken dormant bulbs, I noticed that there is a bud emerging on R. 'Harry Hay'. It's good news, it means I haven't killed it this year either.
In the search for understanding among the Rhodophiala I was very pleased to be given some seed of R. araucana, a variable species from the southern Andes. It is always interesting to grow things from seed. Watching them develop as youngsters can give an insight into why they turn into curmudgeonly adults.
The developing flower spike would have been a cause for excessive celebration. The pot of seedlings has been lying around in the way for years like a deaf old dog asleep in a doorway. Suddenly some action, and suddenly is the word. These spikes didn't develop slowly over a week, they weren't there and then they were.
Birders use the acronym LBJ (little brown job) for a small brown bird not seen well enough to identify. I have a similar acronym for unusual bulbs grown from seed, JHA (just Habranthus again, though there is often an expletive in there as well). Habranthus tubispathus gets everywhere, if you ever sow a black papery seed, whatever the promise, you should brace yourself for Habranthus tubispathus. Rhodophiala araucana is variable, but not this variable. I get some comfort from the fact that there are a few pictures of R. araucana in habitat in Chile that are actually of the Habranthus. There is widespread confusion.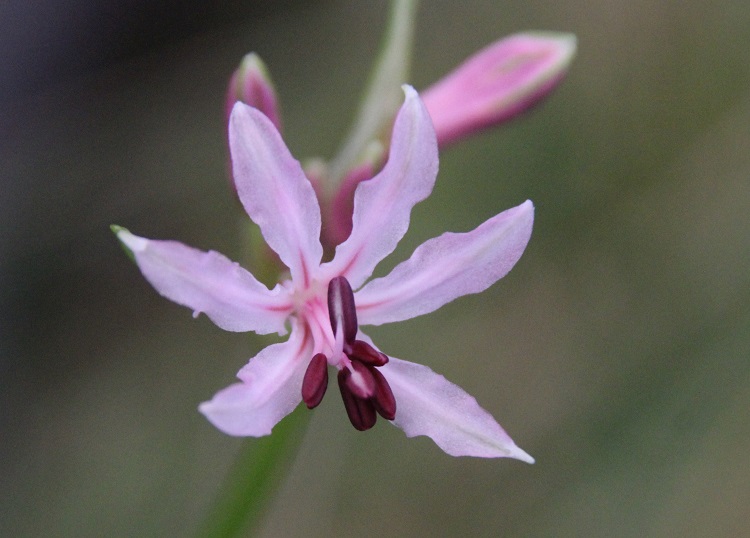 19th August 2018
Nerine masoniorum .
As the Disa fade I was worried (in a self-indulgent pink-tizzy way) that there would be a gap. I have red Roscoea that would plug it, but I wanted the Disa to hand on smoothly to the Nerine. By the time the Nerine start to look tired the snowdrops will be well into their stride. Spring will be upon us. The early autumn watering has a great significance. It wakes the bulbs, demonstrates that they aren't all dead (it is always a worry, stupid though it may be). Somehow this is a significant time in the rolling of the seasons. There have been reports on the grapevine of Colchicum in flower.
My Colchicum aren't flowering, but I will look more closely next week. I mowed over their beds last weekend to prepare for them.
I would like to do it again before the flowers emerge just to tidy up the loose ends. One year I left it too late and all the flowers were truncated so I will look carefully first.
N. angustifolia is usually my earliest species but it hasn't flowered this year. I found some mealy-bug deep in its heart which may be the reason. They were dealt with promptly but I think the flower buds aborted. N. masoniorum was the first spike I noticed, though there is a N. sarniensis seedling not far behind. I went down to the greenhouse this morning while the kettle boiled, not expecting it to be open, but hoping for the first tiny indication.
It's pink, it's frilly, it's autumn.