JEARRARD'S HERBAL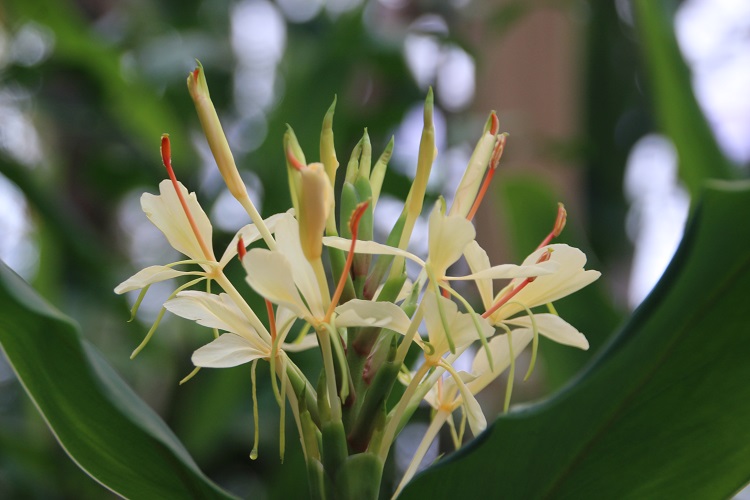 4th November 2018
Hedychium 'Devon Cream' .
Winter arrived this week like discovering a puddle in the box of summer's fireworks. Sunday night was cold, Monday night was colder and all the excess of summer has been reduced to pulp. Impatiens tinctoria had been working on a return to form after a lull in October but unfortunately it has been brought to a halt. Next spring there will be some fresh shoots arising but for now it is just a pile of slimy mush. Such is the unpredictibility of the season. I'm going to celebrate it, though I may celebrate with with some passionate moaning. Summer is over, the garden can be tidied up for winter (ha ha). Once the last leaves have fallen the slimy scars will be covered and when the snowdrops appear the world will seem fresh and new.
Planting of the Hedychium has paused while I rush about the place looking at Nerine. I think that the Nerine Society AGM yesterday was the last event of the season. Now I can settle down at home and enjoy the pinkness of the season.
Outside H. 'Devon Cream' was caught by the frost, the leaves have blackened and the pseudostems will collapse. A couple of feet further back, in the shelter of some conifers, plants are untouched. I am hoping for another few weeks of warm weather to fatten up rhizomes for next year. In the greenhouse 'Devon Cream' is producing some late flowers. The frost didn't get in and with the ridiculous optimism of the Captain of a sinking ship, things might get better. Maybe the late forms will flower in February this year and greet the spring (glug glug glug).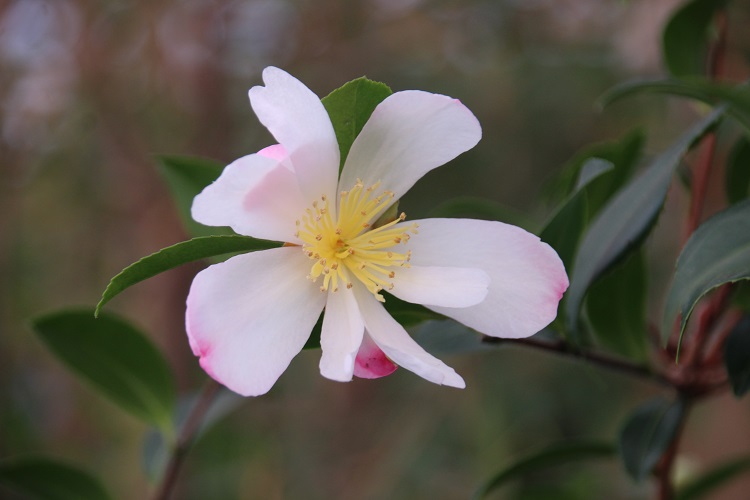 4th November 2018
Camellia sasanqua 'Rainbow' .
I believe in fairies. Why else would you have a garden. A place for fairies to cavort, that sprinkling of fairy-dust that changes a dull autumn day into a sparkling miracle. If you don't believe in fairies you have to attribute it to chance. I walked along the rows of spring flowering Camellia looking for a floral chance or a fairies footprint. Perhaps the overnight cold snap would be enough to pop a bud open, hidden around the back where the autumn air stagnates in a magical puddle. Nothing. I will have to wait.
Camellia 'Desire' often bursts before December but nothing. They are plumply self satisfied but not ready to bubble over.
In the greenhouse, C. sasanqua 'Rainbow' is looking pale and interesting. The flowers seem to appear in the dark corners like the last traces of the morning mist, thickening through the week. They aren't the same as the spring Camellia, even the pink ones are tinged with the shadowy darkness of winter days, but they are a promise. They are an I.O.U. rather than actual payment but it is a believable promise wreathed in the scent of confidence. Scent rather than smell, by a fine margin.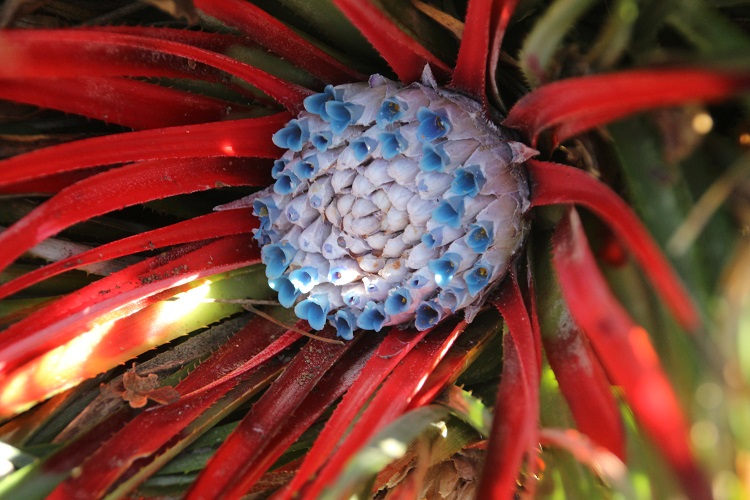 4th November 2018
Fascicularia bicolor ssp. canaliculata .
Too much wispiness in the garden is like an irritatingly thin soup. Not quite thick enough, not quite tasty enough. Every spoonful is a grim disappointment, the bowl never seems to empty as though fairies were refilling it with boiling water when you look away. Gardens can be too thin as well, and it is just as frustrating. I went to Westonbirt yesterday and the autumn spectacle had ended. A few lingering leaves were dying like the last embers of a campfire, more ash than glow. I stayed for an hour, enjoying the knobbly trunks in the low sunshine but it lacked delight for me. Without the sparkling evanescense of autumn it lacked body though there were bodies aplenty. Families and dogs and an astonishing technocrust of smart phones.I have a feeling they were all ordering takaway pizza and that a wave of young people on mopeds were about to deliver the goods. I left before it happened.
At home in the garden, Fascicularia provides a great lump of pudding. It is heavy and solid and prickly enough to capture some flaming Acer leaves in its scarlet arms. The blue flowers are the only note of levity, a quick giggle from a town crier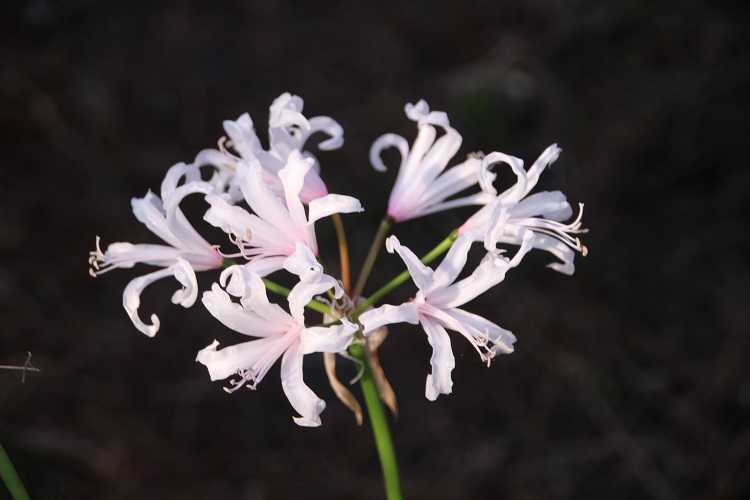 4th November 2018
Nerine 'Kashmir.
Nerine 'Kashmir' .
Among the uncertainty of the season, the Nerine have been reliable. The N.sarniensis cultivars are fading and I am trying not to think as I snap off the old flower stems. I don't want any more open-pollinated seedlings this year, I hardly have space for those already growing. This year I am being sensible, cutting them before the seed starts to swell. What I don't see I won't miss. More importantly I won't get the urge to sow any more.
I was really impressed by N. 'Kashmir' when it first flowered here. Unfortunately having made an impression in the first year the bulb promptly rotted away. I had a sense bungling frustration, like stubbing my toe on a table that I knew was there.
I have enough confusion about the various Nerine cultivars, as soon as a get a handle on a cultivar that I can pin information to, it dies and I am back to square one. Snakes and ladders with flowers and limping.
So I waited for another to become available, opening the door to all manner of frustrations. What if it doesn't flower, does flower but is wrong. Flowers and rots again, just rots. What happens if there just aren't enough fairies to sparkle among the petals? Nerine would drive me mad if they weren't so reliable.
Madder.