JEARRARD'S HERBAL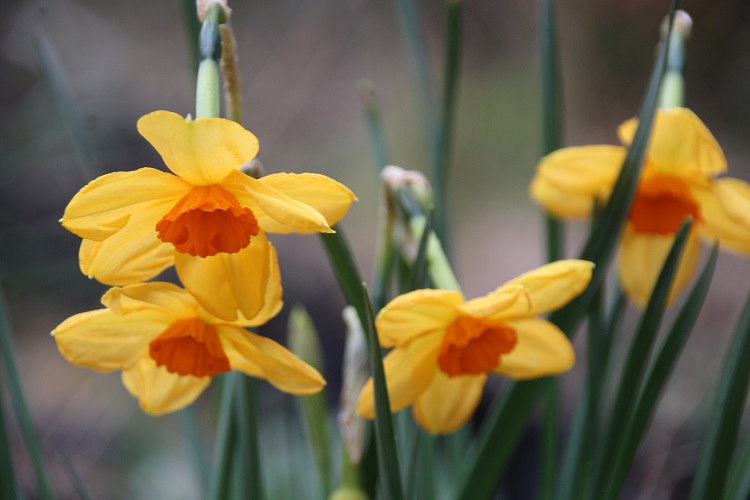 10th March 2019
Narcissus 'Kedron'.
The impossibility of spring has begun. Perhaps what I mean is that the possibility of winter has passed. There are a lot of things that need doing in the garden, and in winter that seems possible. They don't all get done, time and the weather intervene, but they would be possible. That is no longer true. I have been clearing an obstinate patch of brambles behind the house. They have rooted into the decaying roof of the shed and they have every intention of staying there. On the other hand I had every intention of removing them. Looking out of the bathroom window this morning in a meditative, post denture inserting mood, I noticed that the new shoots were growing. The possibility has passed. Removing brambles from a collapsing roof isn't a thing to do on a whim. It takes a lot of time, plenty of consideration, several cups of coffee to fortify the assault. In short, it is a winter job. Winter has passed. The greenhouse needs watering before I do anything else.
With the spring has come Narcissus 'Kedron'. Last week it was in tight bud, suddenly it is in flower. Gone is the season of inexorable progress, stems that inch forward week by week, the impossible hastening of spring has started. I had a vague ideas in my mind last year that I would like to try some of the orange Narcissus. I went to a show the following week and somebody was selling pots of 'Kedron' in flower. I didn't really have to work at it. Sometimes when things just fall into place it feels like cheating. Surely some struggle is essential? Sometimes things just fall into place with no fuss and you just have to deal with it. So I am dealing with 'Kedron', magnificent manifestation of the wonder of orange. Why do people grow acid yellow daffodils, this is as intangibly delightful as a gently swaying hammock in the May sunshine. It is all the things that orange-flavoured chocolate fails to be. It is the radiant light that shines through the hole that would be left if you removed all the misery from the world. In short, I like it.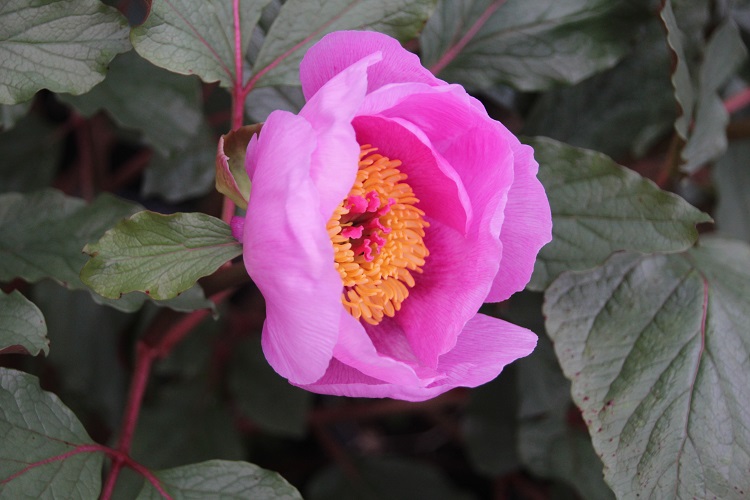 10th March 2019
Paeonia cambessedesii .
The wilful, reckless, careless excess of spring is bursting all over. Even the dour Forsythia in the front hedge has coaxed the golden stars of night onto its branches. I went shopping last night, reluctant to waste a moment of daytime on frozen curry. Turning around at the front door, the Forsythia glowed with an ethereal grace quite contrary to its normal no-nonsense yellowness. The garden is full of little rabbits making scrapes in the ground, and they have unearthed a touch of rampant pretentiousness, but hallelujah Forsythia!
With the back door open and the sunshine streaming into the house I can hear the sounds of the garden and what I think was the first Cuckoo of the year. It might have been a sawn-off Collared Dove, it had stopped by the time I got out there to listen, but it certainly sounded like a Cuckoo. Quite amazing, and that is the only term to describe the first peony of the year. I knew it was coming, I have watched the scarlet shoots develop into the gun-metal clusters of leaflets and seen the egg-buds revealed in their metallic nests. Still, its arrival takes my breath away for a moment. It's up in the Agave house, the closest imitation I can find for its Majorcan cliffside home. It leaves me breathless, but this isn't the place to swoon. I'm not going to fall off a cliff but I might fall onto an Agave which is equally undesirable. I don't know if it would prosper outside, but I have hundreds of little seedlings so I will give it a try. Or I might build a little greenhouse for them all to live in. That really would be an excess.


10th March 2019
Pleione Paricutin.
It is difficult to imagine a situation in which a 10cm orchid flower would have a spare elegance about it, but here we are. The first Pleione opened last week but March is well underway, the temperature has remained high and the Pleione are developing fast. They are the easiest of orchids, in the way that laying tarmacadam is the easiest way to build a road. If you have the kit and the materials organised it is no bother. In the case of Pleione it took me years to get the greenhouse just right, to get the right compost, the right size pots. All these things play a part. Now I know how to do it they are the easiest of orchids to grow, I can't imagine why I ever had any trouble with them. I bought a number of new cultivars through the winter, we shall see if I am actually as clever as I like to think! There's nothing like a brush with the real world to sort these things out. A few weeks after arrival and I haven't killed any of them yet.
My plant of Paricutin is a simple pink and white Pleione. It has a moderately interesting lip but if it was being offered as the latest manifestation of P. formosana there are very few who know enough to question it - and I'm certainly not one of them. Ian Butterfield registered the grex in 1986 and he must have been trying to marry the vigour of P. Tongariro with the potential for yellow from P. x confusa. I haven't seen a yellow one, I haven't seen a vigorous one, and I haven't seen any named cultivars so perhaps it is understandable that the hybrid seems to be falling by the wayside. This was a step along the road rather than an arrival.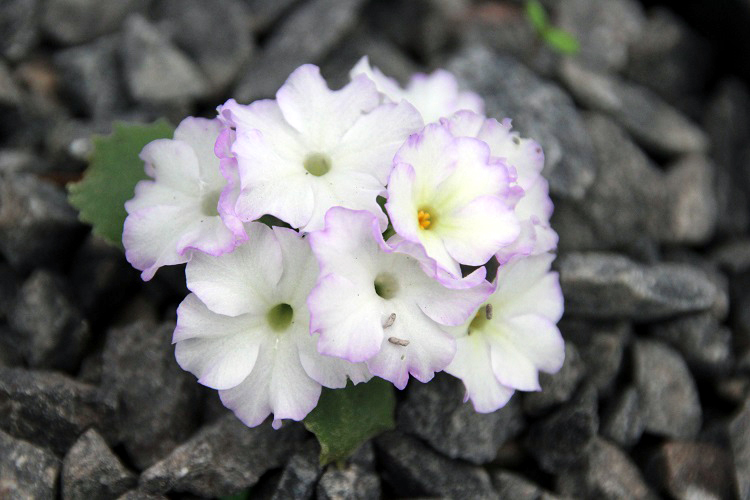 10th March 2019
Primula 'Lindum Lavender Mist' .
It is the step by step process that leads me to Primula, a genus I view with deep suspicion. I like them, at least I think I like them, but they don't do anything to make it easy. To be honest, I think the real problem is the vine-weevil that inevitably attend every attempt at cultivation. I have had a number of phases of Primula cultivation, each one stimulated by the belief that the vine-weevil problem had finally been overcome. Peat composts were abandoned, neonicotinoid insecticides were adopted and now I have nematodes.
The forms of P. allionii have always exerted a fascination. I see them at the shows, perfect cushions of frilly flower. The most I have ever managed is a scattering of blooms on a tuffet but I have been working on it for a few years now and it hasn't been a catastrophe. The key moment was an appreciation that I needed a compost unsuitable for vine-weevil. I started with expanded clay granules but have recently moved to pure limestone chippings. Lets see a little grub try to snuggle up in those! They require deep pots and a rethink of watering, but I have been pleased with the results. I can now boast a cushion entirely obscured by its flowers. It's a very tiny cushion I will admit but this is progress.
Once I have confidence in a cultivation technique I will have to answer the really difficult questions. Do I actually like frilly pink tea-cosies? Perhaps the impossibility of the season will save me.
Time for wonder but no time to wonder.