JEARRARD'S HERBAL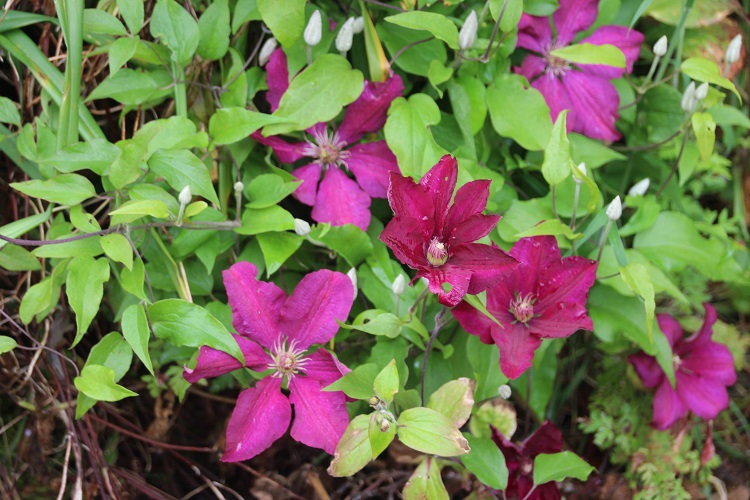 16th June 2019
Clematis 'Rouge Cardinal'.
Another week with the threat of rainfall lurking over the days. In between showers it has been cold, dark and misty. Thoroughly summery some might say. The only seasonal feature has been the horde of biting ninja-insects that seem to have followed me around all week without me noticing. As I go to bed I find the swollen red lumps and then spend the night scratching them pointlessly - the relief is little more than momentary.
A moment of less-dullness took me to the herbaceous border which has started to show signs of growth. In my happy world of good ideas, the replanting would be finished by now. In the real world, I am still fighting the weeds. A couple of weeks ago I felt as though I was on top of it. The rain has convinced me otherwise. The new layout will be wonderful but in the meantime I have Clematis 'Rouge Cardinal' spilling over the leaves of a large Hemerocallis. It was one of those inspired moments of planting that happen when you have a Clematis in one hand and a large Hemerocallis in the other. The chromatic charm of convenience. It has been trouble free, and that is a seriously under-appreciated attribute.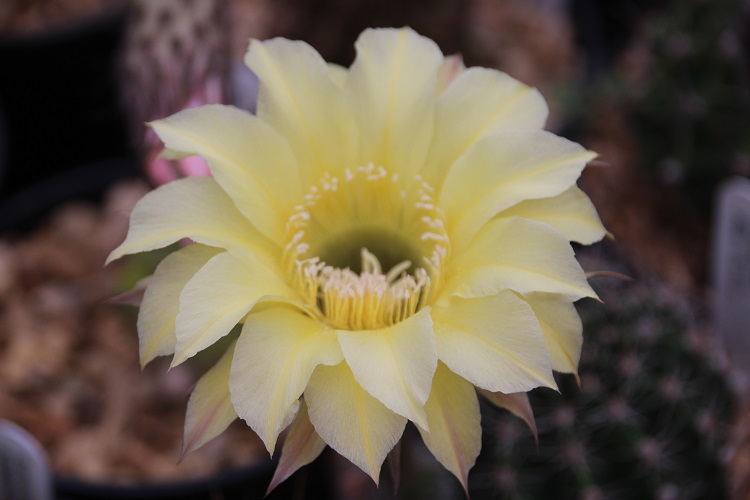 16th June 2019
Echinopsis 'Pink Camay'
Echinopsis seem to be slipping out of cultivation like a late night lothario from the back door of a brothel. Silently, unnoticed and with an obvious pun hanging in the air.
Last year I took an opportunity to buy a few named cultivars before they vanished. It is a hit and miss process, some will go on forever, others will fall by the wayside. I thought that I would try to catch some of the fallers and in the process I bought 'Pink Camay', raised originally by Brian Fearn at Abbey Brook Cacti.
Introduced in 1986, it was a seedling raised by crossing 'Green Gold' with 'Terra Cotta', described as delicate pink with sharply pointed petals and a darker midstripe. Cream stigma and filaments. I had such hopes for this flower until it became clear that it was going to be yellow. As the bud enlarged I had even convinced myself that it would blush pink in the last effort of opening. It was not to be. This is a lovely yellow flowered cultivar but the process of falling by the wayside has already started. Whatever it is (and I don't think I have the skill or the patience to uncover the correct name), it is not 'Pink Camay' and if I say that clearly enough here, then it will be less important when I forget to change the label.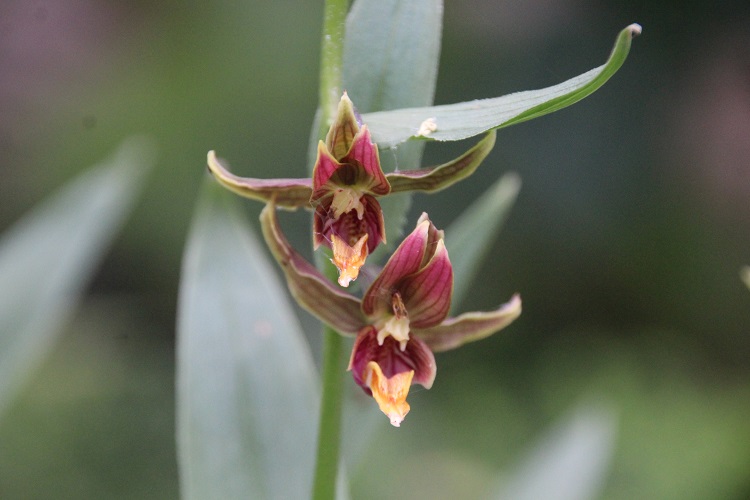 16th June 2019
Epipactis gigantea .
I have a lot of orchids, but I don't really have an orchid house. The result is that the pots seem to wander around the greenhouse, popping up wherever there is space. No sooner have I gathered them all together, imposed some order on the scattered, than I find something that really doesn't fit with my plans. Epipactis gigantea is one such misfit. It is a moisture loving orchid, and I have an abundance of moist beds and benches that it would love. I find it difficult to understand why, when I bought it, I stood it in the dryest part of the greenhouse. The bit that takes most effort to drag a hose to. The back corner where I place all those things that will survive a forgetful week in summer. I am amazed that it survives there at all, but it does and it flowers every year. In fact its performance has been so reliable that now I am afraid to move it, in case I have over-estimated its need for moisture. Perhaps it really likes drought after all.
This year I have come to a compromise. It can stay where it is, but I have stood it in a large saucer that catches the water and ensures the compost gets wet. The plant looks better for it, is flowering more freely and has grown considerably. I might have the courage to divide a piece off and try it somewhere that I think is more suitable. Then I will see if it agrees with me.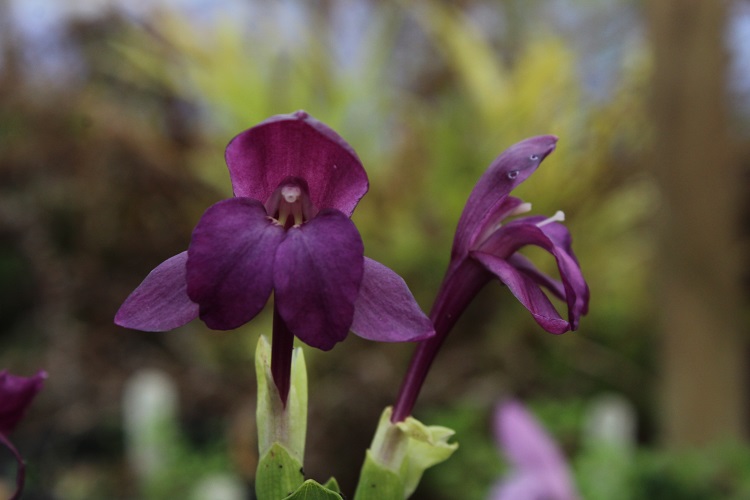 16th June 2019
Roscoea auricula 'Bressingham Form' .
The rain that has fallen through June has kept temperatures down, and normally that would have held back the gingers. Not so this year. They had already been held back by the dry soil and the moisture that has fallen has re-invigorated them. The Roscoea started to appear above the ground almost as soon as the first band of rain arrived. The early forms of R. cautleyoides came first, followed by R. humeana and now I have this strange purple flower. It came to me as R. auriculata 'Bressingham Form' and it may well be that it came from Bressingham Gardens at some point. Whether it is a form of R. auriculata is more open to debate. It looks like a smallish form of R. humeana. Perhaps if it set seed I might learm more about it, but it doesn't. It would be more accurate to say that it hasn't yet. It I get a chance I will try to pollinate it by hand this year and perhaps it will get the hint.
Whatever the final outcome, it is a good colour and a good shape.
I was looking at the wet ground and the large supply of plants waiting to be put out, and wondered if this might be the time to take a risk. I think not. Perhaps if the rain continues, I might start the autumn planting a little early but the middle of June is probably asking for trouble. Removing the weeds from the herbacous border sounds like a better idea, biting insects permitting.