JEARRARD'S HERBAL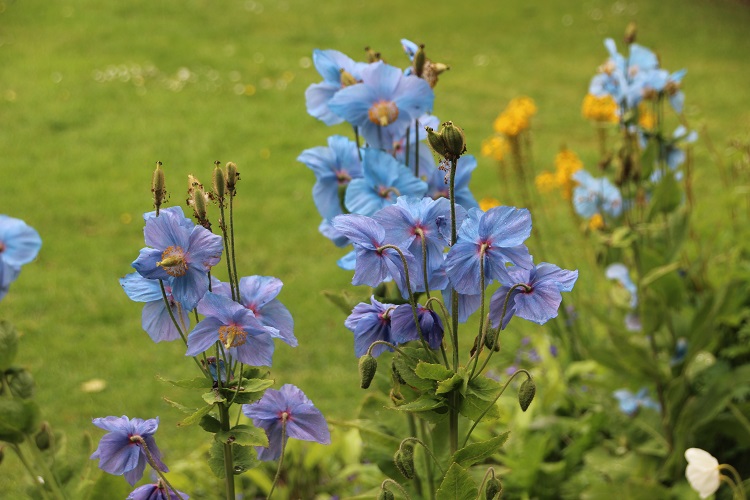 23rd June 2019
Meconopsis baileyi .
It has been a hot week in the garden, except for the rain which might or might not have happened. Except for the icebergs that is. They may have introduced a colder element. Let's hope not. What would I know, I haven't been there, I have been on holiday in Scotland where the weather has been perfect, the gardens have been sensational and the midges have kept their distance. Has there been rain at home? I will worry about that sort of thing next week.
Meantime I have been to Logan Botanic Garden on the furthest south-western tip of Scotland, sheltered in a little nook of a valley with sparkling clean air wafted to it from the loving arms of the gulf stream. It is a well favoured garden, but surely nothing to match the trembling wonder of those Cornish gardens washed by the warm atlantic weather? Think again!
Meconopsis baileyi prospers. That is a wonder in itself. Do any Cornish gardens succeed with it? I doubt it. Certainly I don't. I might still have some seedlings growing on, what did you say the weather had done this week?
Whatever the answer, it is a genus for northern gardeners and at Logan they were magnificent.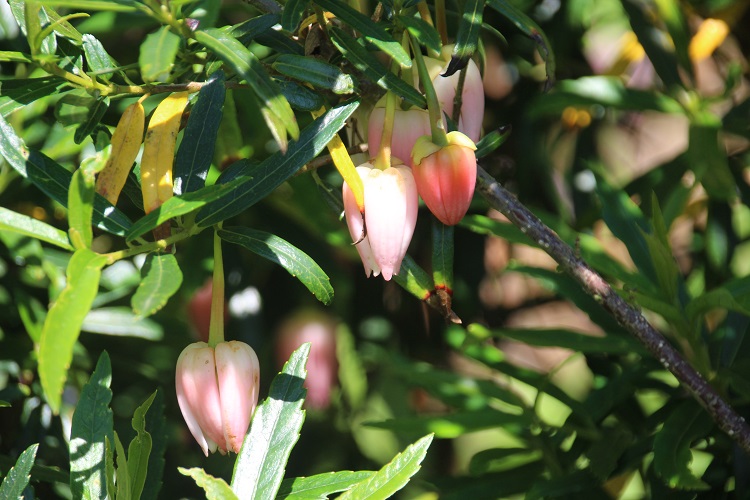 23rd June 2019
Crinodendron hookerianum 'Ada Hoffman'
Over the years I have developed a number of opinions that follow me around like over-used after dinner jokes. One of the great advantages of going away is leaving the domestic opinions behind. Confronted with a different reality I have to work harder to understand things.
Crinodendron hookerianum 'Ada Hoffman' has been a real pain in the garden. I have tried to grow it outside a couple of times. and it has died, without a great deal of tact or lingering grace. It hasn't died like the last lingering strains of music on the radio, it has died like a power-cut. So I formed the opinion that it wouldn't grow outside. I have a large specimen in the greenhouse and I enjoy it enough to let it stay there and accept that it isn't for the wider garden.
Here it is at Logan, almost as vigorous as the typical red form, almost a beautiful and much more perplexing.
I must try again in the garden, perhaps I have just been unlucky.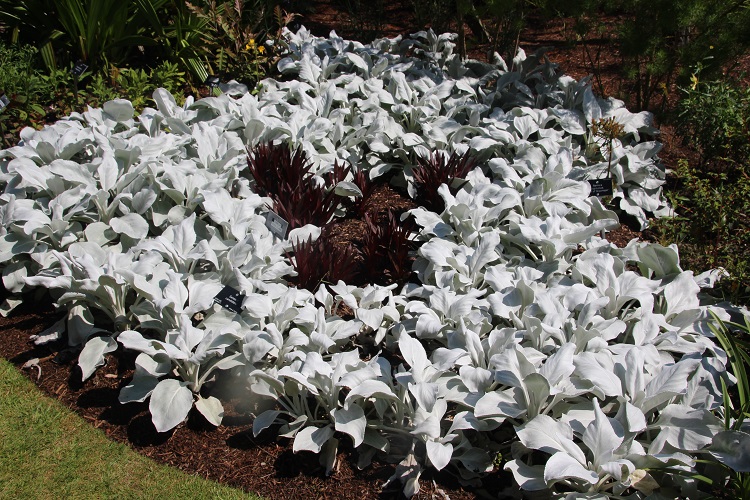 23rd June 2019
Senecio candidans .
More humble pie to eat. I must have watched a dozen plants of Senecio candidans die in other people's gardens. I killed one myself by keeping it too wet in the greenhouse over winter. I finally decided that it needed constant moisture and fierce drainage. I have one in the garden growing in pure gravel in a planter by the back door. It is wonderful. I was so smug.
In Logan they grow it in the ordinary herbaceous border, a great mass of glistening white leaves that astonished the passers-by. No sign of carefully washed gravel to keep the roots moist and well aerated. Just plonk it in the ground, it will be fine.
So there is something going on here that I don't understand. Next time I am feeling smug about my little tuft (lovely as it is) I will think of Logan's shining silver tide of delight.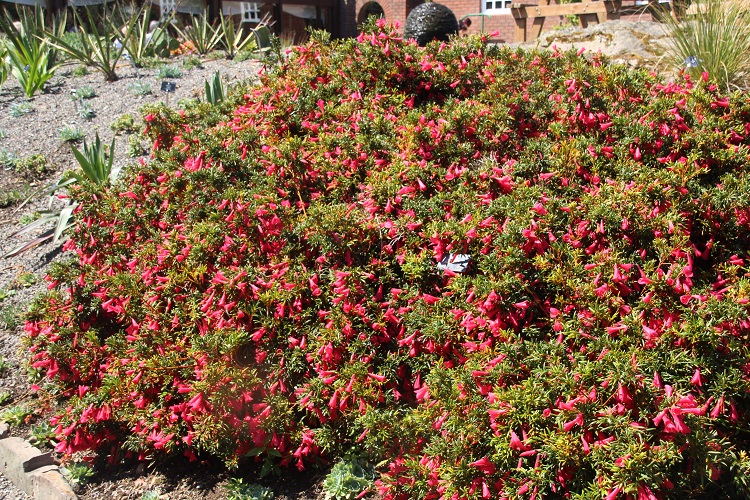 23rd June 2019
Philesia magellanica .
We have had some fantastic weather, I have worn a sun hat and insufficient sun-screen, a lesson I learned from experience on Monday. I have drunk gallons of water, eaten enough cake in tea rooms to feed a knitting circle and wandered around in a daze.
I walked past a mound of scarlet flowers with little more than a glance. Someone had to stop me. You do realise that was a Philesia don't you? 180 degrees of incredulity must have passed across my face.
I know Philesia magellanica as a shade lover that produces occasional red trumpets around mid-summer. Wonderful trumpets, glowing with the exotic shade of pomegranates, wonderful but occasional. It seems that my wonderful occasions are on the poor side of moderate.
At Logan it is growing in full sun, out on the gravel of the rock garden. It has made a low mound, perhaps 2 or 3 metres wide and it is covered in flowers, more bloom than leaf, a wonderful spectacle beyond all expectation.
So next week I will get back to my own garden, water the greenhouse copiously, apologise if there has been any dessication, and try to learn some lessons from what I have seen.
Holiday's are a jolly good thing for a garden!