JEARRARD'S HERBAL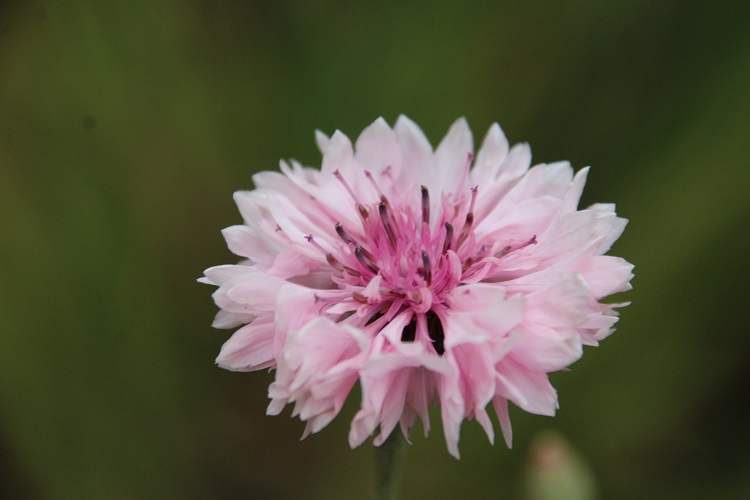 21st July 2019
Centaurea cyanus .
The sweltering summer continued into this week. On Tuesday I was chased around the garden by a swarm of biting insects in all varieties. The combination of temperature and wind speed must have been just right for them. Abandoning my usual faith in biodiversity I swatted a few of them, realised that they had me outnumbered and retreated indoors. Fortunately the temperatures started to fall, the forecasters suggested rain (giddy fools) and best of all, the schools are about to break up. If that doesn't bring the downpour, I don't know what will. True to form, on Friday it rained. The garden hasn't been soaked, but it has been refreshed. Under the trees the Cyclamen will have been woken from their summer slumber. I haven't been to look, if I put my fingers in my ears and shout "La-la-la" perhaps the autumn will remain at a distance for a couple more weeks. In the greenhouse I watered Acis autuumnalis and before long the tiny white bells will appear.
"La-la-la".
And I have only just got Cornflowers, the summer has barely arrived. They went in late. I had two dead Agapanthus in tubs. I gave the crowns a tug and the dessicated roots gave way leaving me with a handful of smelly sludge, killed last year in the beast-from-the-east. I'm too lazy to tidy up, I sowed cornflowers over the top.
I like cornflowers, they are no trouble. In the last six weeks I have remembered to water them once. It's just like gardening, but without any effort.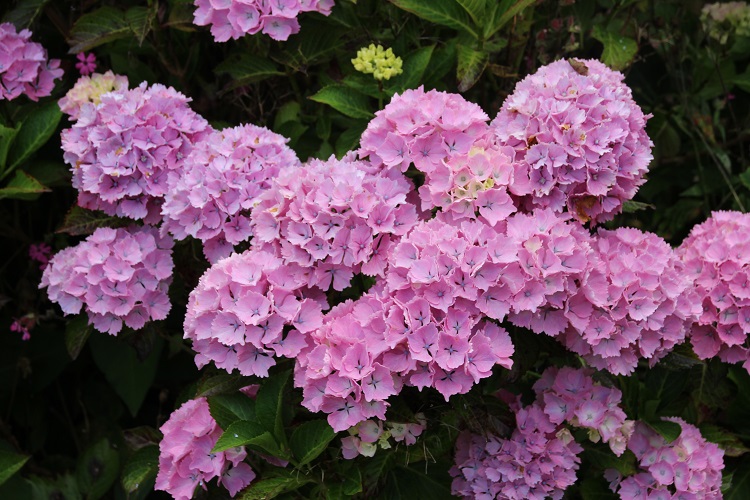 21st July 2019
Hydrangea macrophylla 'Pink Sensation'
I had started to think about the Hydrangea. They are wonderfully lush, the dense leaves give a great sense of fecundity to the summer undergrowth. They seem to be very tolerant of drought but eventually the leaves start to hang. If it continues they will shrivel and drop. It doesn't seem to hurt the plants but it spoils the effect and this year the effect has been stunning.
I like blue Hydrangea, I plant blue Hydrangea and I have a soil that suits blue Hydrangea, it is a perfect arrangement. This year they have been amazing, the colour as deep and pure as I can remember. The plants are a little bigger than they could be, a consequence of trying to fit in more Hydrangea than the space allowed, but they will be cut back in winter when I weed through them.
'Pink Sensation' has been a surprise. Part of the Tea Time series, it was bred to produce small flowering pot plants of the sort that look like a flower pot with a pink tea-cosy on the top. My sense of the ridiculous drew me to it immediately. Out in the garden it has made a really good, compact shrub covered in large heads of flowers that are decidedly pink. I don't know how it does it, the flowers in the centre of the bracts have turned blue, but the pink colour remains. It is unexpectedly delightful.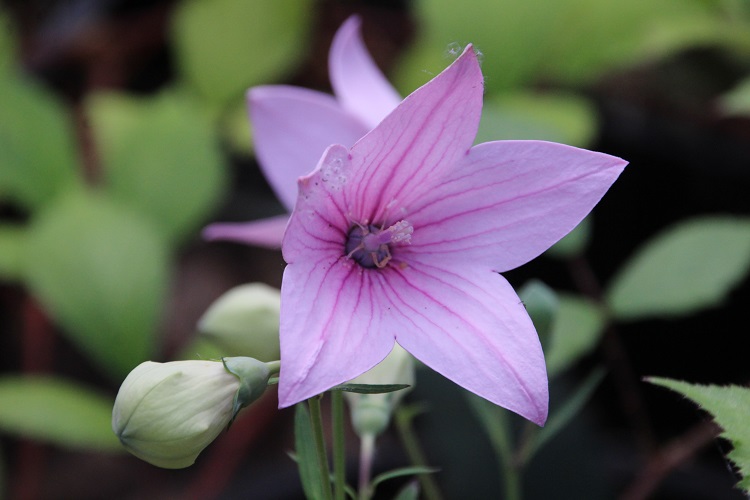 21st July 2019
Platycodon grandiflorus Astra Pink.
From one pink surprise to another. Platycodon grandiflorus has flowered in the Agave house. In 2010 I was looking at the developing steel grey rosettes of the Agave and adniring the architectural harmny and simplicity of the effect. It was very restrained. I un-restrained it. My local supermarket had some cheap Platycodon in flower, so I planted a dozen pink ones among the Agave. I had a nebulous image of shimering pink blooms floating among the grey rosettes, the sort of dreamy fictional image that appears on landscape plans and impressionist pictures. The reality was always going to have much sharper definition. It was going to have a very clear point. The Agave would see to that.
Nearly a decade later I still have one plant. I forget it is there until it flowers, a pink flicker among the wicked barbs.
I might plant some more, I still enjoy the idea. I think I know where I went wrong the first time. The potted Platycodon were growing in something that looked like sawdust. I should have knocked it off but instead I planted the rootballs intact. I don't think they ever grew out of it. Next time they will go in bare root (and I will remember to water them, which also helps).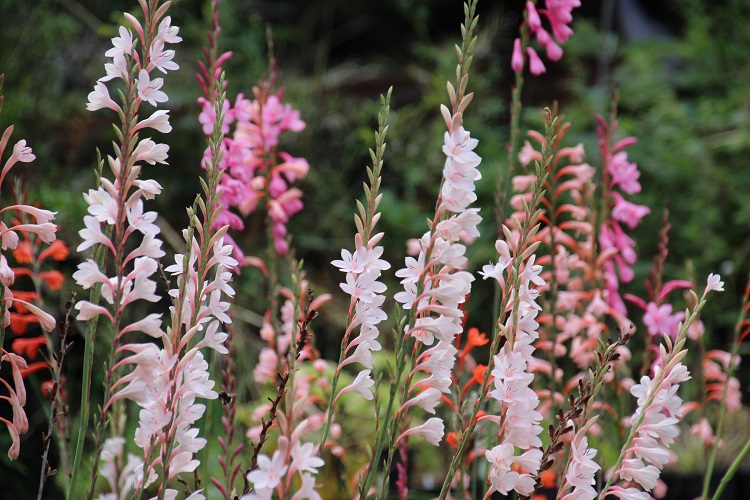 21st July 2019
Watsonia .
Good ideas flock into the garden like biting insects, it can be difficult to keep them under control. I have a large collection of Watsonia. Or at least I had a large collection of Watsonia, now I have a large number of tubs with Watsonia in them but the colours don't always match the names. Watsonia produce seedlings quite freely and the seedlings take over.
Watsonia are good things, the flower colours are more forgiving than Crocosmia, the leaves more impressive and they are less invasive (if you eschew the apalling W. meriana var. bulbillifera, and you should). I raised a cross between W. pillansii 'Pink' and W. 'Stanford Scarlet' in the hope of producing a good dwarf scarlet hybrid. The first generation were salmon pink. I kept two of them, one was rather feeble and has died out, the other was rather vigorous and hasn't. I raised some second generation seedlings from it that languished in pots for several years looking dull. I wasn't very motivated to do anything about them. Shortage of space in the greenhouse finally forced my hand, and they went out into a convenient space. They have prospered, they have burst into multicoloured flower and there is nothing approaching scarlet. There is a dwarfish pale pink one that I like but I have been enjoying them most as a group.
They are the swarm that has drawn me back into the garden.