JEARRARD'S HERBAL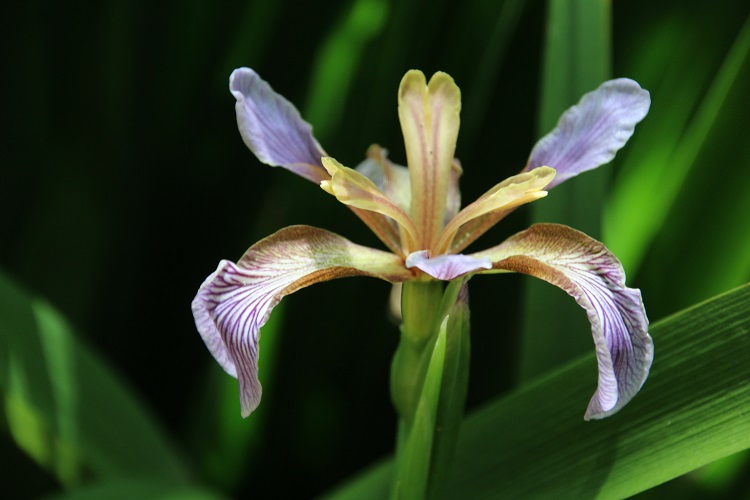 20th June 2021
Iris foetidissima .
It has been another very humid week, the garden has been hot and there has been hardly any rain. Low cloud bumped into the top of the hill and dragged through the garden like a deflating airship. It didn't leave any water behind. The ground is dry, the litter layer crunchy as I walk over it. At the start of the week I dug up a camellia and moved it. It was in the way and I am impatient. I want to open up a new path and if I wait until autumn when I can move the camellia, it feels as though it will never happen. In the end I decided that I could replace the camellia if need be, moved it, watered it and left it to take its chances. Torrential rainfall would have softened my guilt.
I cut off most of the branches to give it a chance. They were stacked in a pile that I was afraid to burn. That same impatience stepped in during the week, the branches were moved onto a concrete foundation, the flames leapt to 3m tall and a few moments later it was all gone.
I was able to cut the line of a new path, passing my loose colony of Iris foetidissima in the process. It is a very quiet species. For me it lurks under the trees in green tussocks, but where the sun gets through it flowers abundantly. I had ignored it as a species until I saw it naturalising in my mothers garden with every shade of flower from pale blue through brown to pale yellow. Divisions of the best forms are the foundation of my population. For most of the year it is dull, but for a week in June it is the most delightful thing in flower.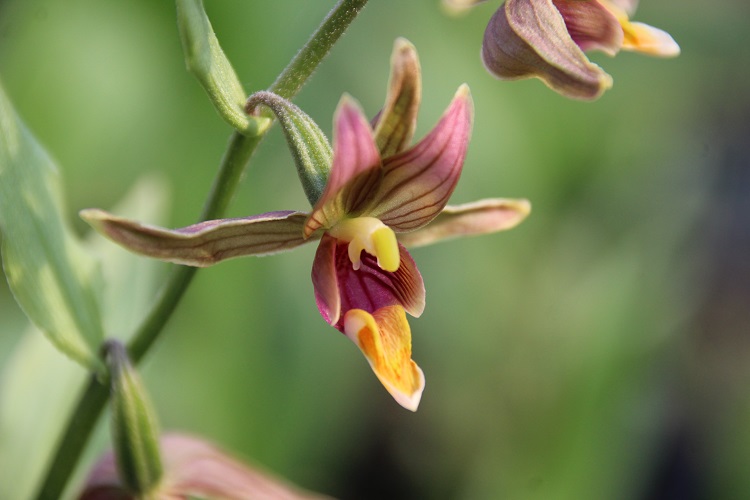 20th June 2021
Epipactis gigantea .
Epipactis gigantea also gets overlooked. I forget that I have it, the shoots are inconspicuous and the flowers happen as well. That is about as assertive as it gets. I grew it for years in a tub in the greenhouse where it was far too dry but somehow continued. Over the course of a decade the tub filled with growth and last autumn I finally got around to dealing with it. It has been split and put on a bench where I remember to water things. As a result it is better than it ever has been before. I have plenty of young plants, I can now afford to try some outside. It is perfectly hardy and happy in a shady moist soil. The thing that has always worried me is its ability to survive competition. In my garden it will have to fight to hold on to every inch of soil it occupies. However, it persisted in a dessicated tub of compost in the greenhouse, I think it is tougher than it looks.
It started to flower a fortnight ago and it should keep going for another month or so. Now I have it somewhere convenient and can see the flowers, they are delightful.
Flushed with enthusiasm for the genus as the new shoots came up in spring, I bought three others. So far their performance this year has not filled me with hope. Two have already died back, the third looks only moderately alive. I will see what next year brings.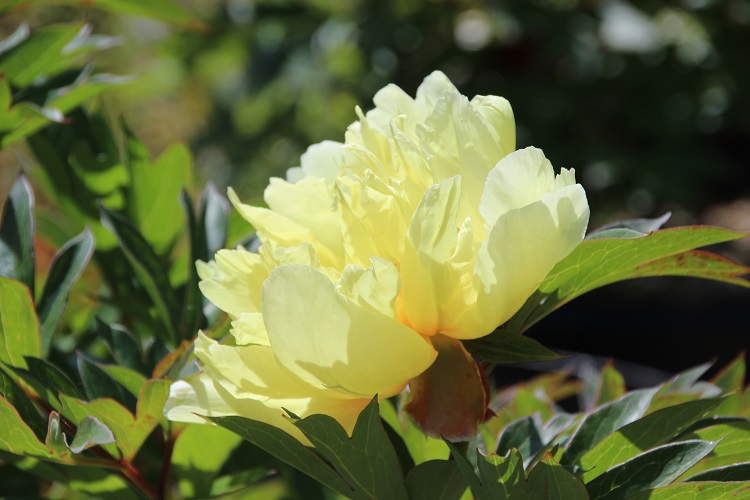 20th June 2021
Paeonia 'Bartzella' .
Something about the Epipactis flowers suggests that outcomes are always sad and gloomy. Peonies go to the other extreme, the opening buds seem to deliver much more than mere petals. They burst with optimism and joy. They are a demonstration that the better days we were always promised have arrived.
Herbaceous peonies revel in the sunny warmth of the eastern counties. The same beds that produced the Iris foetidissima in my mothers garden were bursting with double red peonies. I can't do them here, the ground it too moist and shaded. I have tried and they sit in the ground as dull as a butterfly with closed wings. I manage quite well with a few tree peonies and I thought that would have to do.
And then the intersectional hybrids started to appear, crosses between tree and herbaceous species. 'Bartzella' was the first to come to my attention with bright yellow flowers on low, sturdy plants. I wanted it but couldn't get hold of it. I have half a dozen or more intersectional hybrids in the garden now, all planted because I couldn't get the one I actually wanted. They are fascinating, vigorous, pink, wonderful, available but not 'Bartzella'.
I finally got a plant two years ago and it has been a typical peony delivering an abundance of optimism and joy from the opening buds. This was the one I wanted, this was why I wanted it.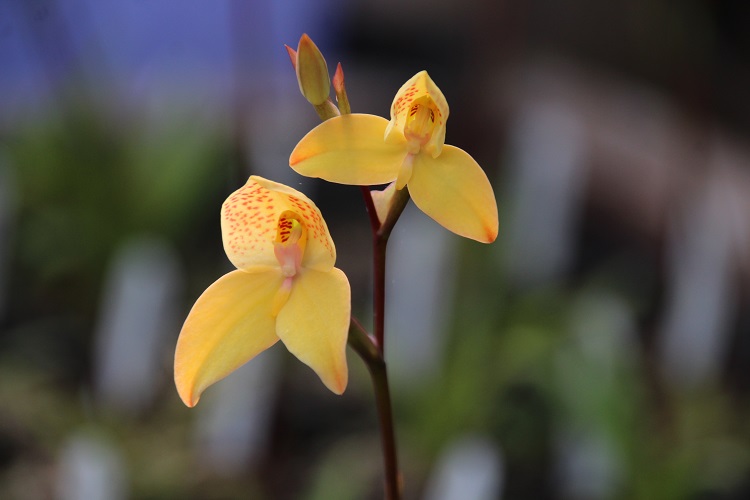 20th June 2021
Disa Trevarth .
It has been a good year for yellow flowers, it looks like it will be a good year for Disa and there is a wonderful overlap between the two groups.
In my Disa breeding I have been trying to add yellow and white to the palette of colours in the large flowered hybrids. Both colours exist in the species in the shape of D. aurata and D. tripetaloides but the paler colours seem to have been neglected in the search for screaming scarlet.
I set out develop some yellow hybrids a couple of disa-generations ago and I have been surprised by the ease of progress. I was expecting years of inbreeding to recapture the elusive yellow colour but it wasn't to be. Yellow popped up in the first cross. It is true that it was a very pale yellow and took a while to recognise, but it was there.
Trevarth is a grex from the second generation. The best of the seedlings to flower so far has good yellow flowers that are much larger than the D. aurata grandparent. I am hoping for great things from the third generation.
The Disa are coming into flower just as the garden relaxes after spring. I have some Dahlia to plant out but it feels as though the garden will be mostly green through the summer. In the cool of the evening it is rather nice to wander through it and then stand in the greenhouse looking at the yellow.
Am I smug? If I burst into flower, I would look like a peony.