JEARRARD'S HERBAL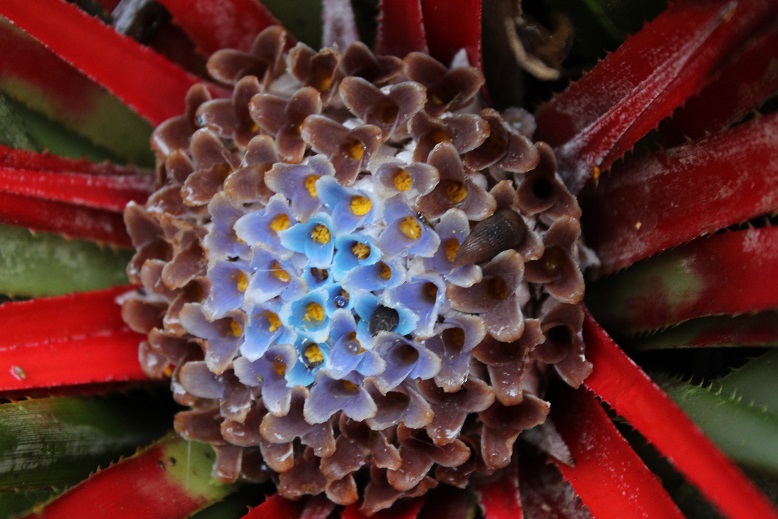 22nd November 2015
Fascicularia bicolor ssp. canaliculata .
Another week of rain. I have been managing to dodge it for a month now, juggling things around so that I got everything done without getting drenched, but this week I gave up. Go on then, rain.
That is not to suggest that I have heroically struggled through the torrent to get things done. I'm too old for than sort of nonsense. I stayed in and drank too much coffee, aided by a timely internet report that it was good for me. I'm not convinced it is true, but it's better than getting wet. Sitting around watching the rain fall leads to gloomy introspection. Peering into the depths of my hard drive I noted that the list of plants included on the website is increasing but the list of plants with adequate write-ups is not. Something will have to be done. That was on Monday when I was pruning some particularly aggressive roses. The air turned blue, the sky turned grey and I went and hid in the bath.
Spiky and blue lead me inevitably to Fascicularia. This is the one with turquoise flowers in a nest of scarlet leaves. I had hoped to catch it in full glory with ring after ring of perfect blooms but by the time I got to it the outer rings had gone over and looked like a cluster of exotic mushrooms. I have another clone with flowers of the palest ice blue. It is quite distinct in colour and very different in its attraction to molluscs. The slugs absolutely adore it. Small brown ones about half an inch long. They cluster on the flower heads, eat the tips of the petals and then dive head first down the corolla tubes. I assume they are after the anthers or the nectar at the base, but they wedge themselves in very firmly. I would have taken a picture of the pale form but I couldn't dislodge them. I didn't think a picture of half a dozen slugs waggling their bums in the air would be very entertaining.
It's not like they're rugby players.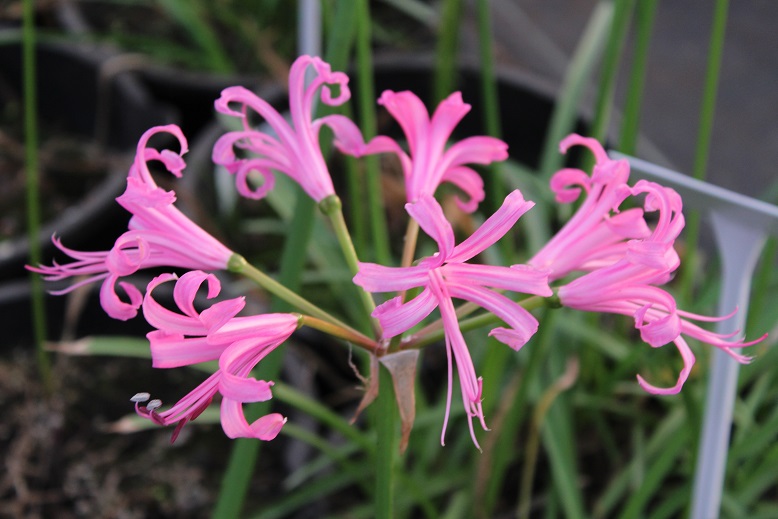 22nd November 2015
Nerine bowdenii 'Codora' .
There is a great joy in the flowering of the Nerine. The first spikes appear at the end of summer as the garden starts to look tired and wrinkled, like a tea-dance in a village hall. Suddenly the Nerine spikes appear, as erotic as forced rhubarb. Autumn is alive with tasteless colour, estuary accents and the innane vocabulary of virgins-with-intent. I find it rejuvenating.
As we get into November the tempo slows. The bright N. sarniensis have retired from the scene, a great many of them nursing bulging seed pods. N. bowdenii takes over. Who could have imagined that a sea of synthetic pink would look calm and restful? A blanket of collapsing stems has settled over the greenhouse and I spent an afternoon in the middle of the week removing it. I started with the sound of the rain hammering on the roof and the cold sludge of pre-botrytis clinging to my hands but clearing up can be uplifting. I ended the day in a meadow of new bulb leaves jigging away to the sound of the drumming roof.
'Codora' has been sitting around in a pot for a long time, slowly getting bigger. Flowers are lovely, but I get more long term satisfaction from watching a pot slowly fill with fat bulbs. There is a special pleasure in watching the pot distort and finally crack from the pressure of the growth within. It is a bizarre but enormous satisfaction. Putting off repotting is a deferred gratification, like saving the Yorkshire Pudding until you've eaten everything else on the plate. Celebrating a meal by ending on a high.
I wonder if anyone else gets that or if I am away on a planet of my own. I know a lot of other bulb growers, but I'm not sure how I would frame the question.
It has been a slow and reflective week.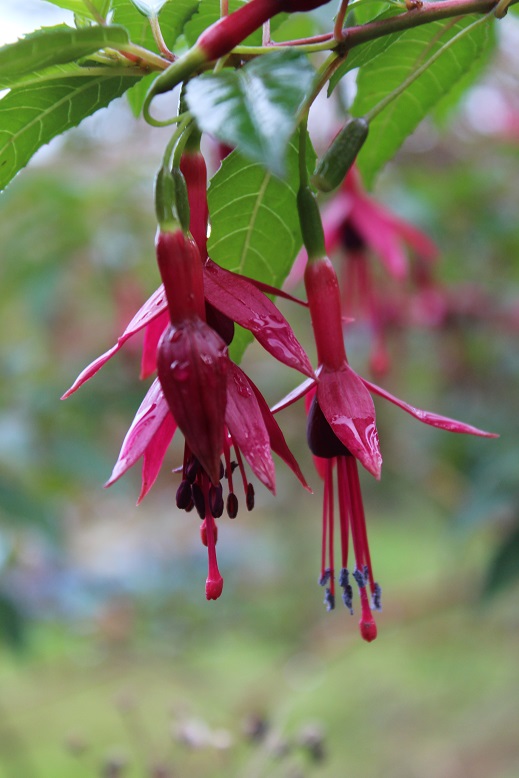 22nd November 2015
Fuchsia 'Lechlade Magician' .
A long cool summer and a wet autumn. 'Lechlade Magician' has never been so good. The first major gale of the week struck. If there had been a cold snap beforehand it would have removed all of the foliage, leaving 'Lechlade Magician' to flower from the bare stems for a few months. By that time its parent, F. excorticata will be repeating the trick. As it is, we have had a warm autumn. The rainwater seems to coalesce into flowers as it runs down the stems and then drip back into drops as it falls from the hanging anthers. It is a wonderful plant filled to the brim with gardenworthiness, but in all the decades I have grown it I have hardly managed to convince anyone else. I don't mind. Some things are just not for sharing. Most people see a red and purple Fuchsia and that is accurate. Hurrah for accuracy I suppose, such a useful tool for the full expression of mediocrity.
A couple of friends have had drainage problems in the village this week. I helped them to clean out a stream that carries the water away. A few days later it was full of sludge again. It has been a season of sludge. I was philosophical about it, which is particularly easy when it is not your sludge.
So what is it about 'Lechlade Magician' that makes it a pearl in the hybrid oyster of Fuchsia? Don't ask me, I have no idea. During the summer a visitor to the garden made a little shriek of pleasure as she passed it and shouted "It's got blue anthers!". I could have cried with delight.
It makes me want to throw off my clothes and dance naked around the garden. I can think of a thousand really good reasons not to do it, but that is how I feel.
Fuchsia 'Lechlade Magician', just a single good reason for dancing. We will see what happens when the weather warms. The arithmetic of gardening has its own rules.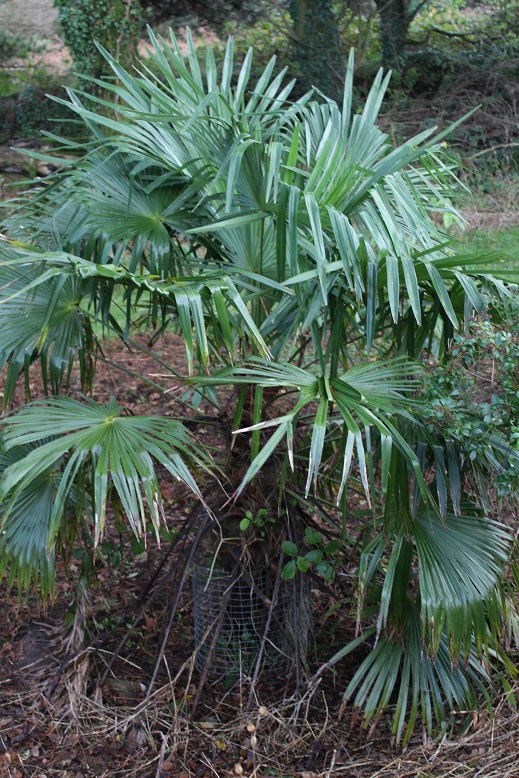 22nd November 2015
Trachycarpus fortunei .
During the week I brushed passed Impatiens tinctoria and the last gigantic white flower wiped a cold smear of water accross my face. One of those snot filled moments of wonder like an unexpected sneeze in bright sunshine that leaves you filled with stunned astonishment. Last time I had an Impatiens here it was I. kilimanjari x pseudoviola, which produced a little flock of variable seedlings outside for a few years. I haven't seen it since 2013, when one germinated under the bench in the greenhouse. I went looking and I can't find any. One of those things that has either died out completely or which has quietly moved to a forgotten corner.
When I first bought it I assumed it would disappear from the market as fast as it had arrived. The species-geeks would turn up their noses and it hasn't got enough star quality for the happy hybridists. I was wrong, it has persisted. If it don't find it again next year I will replace it.
Some things die, you see. It has been a gloomy week, but a cold snap and some sunshine over the weekend have improved the situation. In practical terms I would far prefer the warm dank weather to continue, but half an hour this morning roasting in the propagating house warmed my blood and raised me from the mollusc ranks. Some things die, but other get moved into obscurity.
Trachycarpus fortunei was in the way, so up it came, into a wheelbarrow and off up the garden. For a few years it sat and recovered, but now it is growing again, taller than me and safe from relocation. I planted a number of seedlings at the same time, and the best of them are about half this size already. Trachycarpus have small rootballs and are easily moved, but it does set them back. This one looks a bit small, but I am standing on a pile of soil looking down to get the picture. I tried it on the flat, but it looked dull silhouetted against the dreary sky. It flowered for the first time this year. My little baby is all grown up (I raised it from seed). How the years fly by.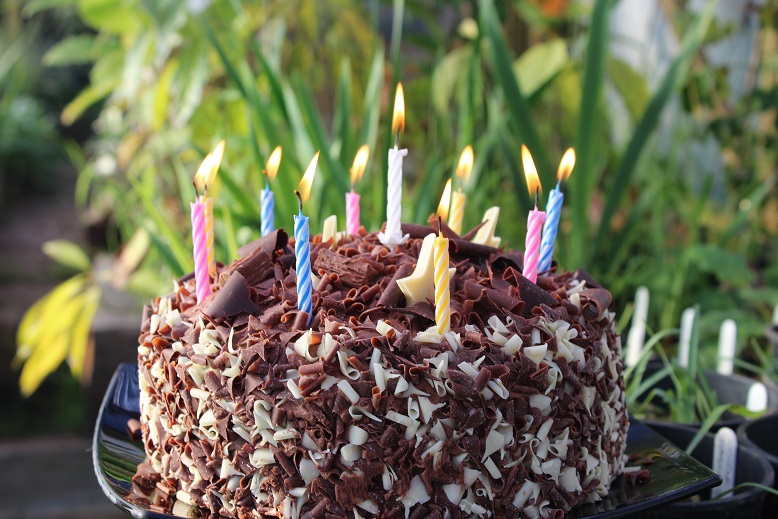 22nd November 2015

So I am going to end the week on a high. Sunlight streaming through the plastic in the propagating house. It was finally finished last summer and it has been a great innovation. I don't propagate very much here, life is too busy, but it is really useful to have somewhere to put things when they are too young to cope without care. The difficulty is always getting them out again once they are able to cope. Still, it has been a great help. If there is any appreciable sunshine it warms up. About a month ago I blocked up the last of the "ventilation" holes that kept temperatures down through the summer and once again it is as warm as toast in there.
It is a symptom of the way the garden changes to meet the needs of the moment. After a cold wet week spent wading through sludge and peering into my own navel it seemed that it was the best place to take a celebration chocolate cake. Burnt my thumb lighting the candles and had to sit the plate on a pot of young Cyrtanthus bulbs but it lifted the spirits just when it was needed. Ten years online.
Happy Birthday John.