JEARRARD'S HERBAL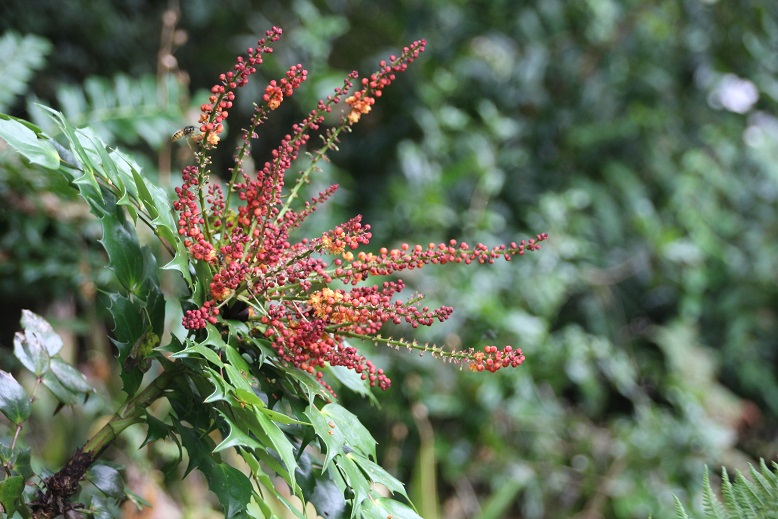 11th September 2016
Mahonia 'Cabaret' .
There are times when I might imagine that the universe organised itself solely for my inconvenience. All done in a very affectionate way you understand. It nudges me in the ribs with a friendly giggle as it sticks a leg out to trip me. I have been trying to clear some hay from a small meadow and just as an opportunity arises, the rain comes down. After a week of frustrated anticipation I gave up. On Monday I laughed in the face of the universe and went and sat on the beach. It's just hay, let it rot.
A slightly crestfallen universe gave a sunny smile and the hay came up on Thursday. It all felt very personal.
Looking at it from a less egocentric standpoint, it is just autumn closing in. Every day now anticipates worse to come and the Mahonia are budding with the promise of thin yellow sunshine for the winter months. Everybody needs another yellow Mahonia, you can never have enough, but (everybody)2 needs a red one!
'Cabaret' comes from the Netherlands where it was discovered in a trial bed of Mahonia. Thought to be a hybrid between M. nitens and M. gracillipes by the discoverer, it is quite close to M. nitens. I would like to grow the two side-by-side but every time I order M. nitens I get sent 'Cabaret'. It is the haymakers price to the universe.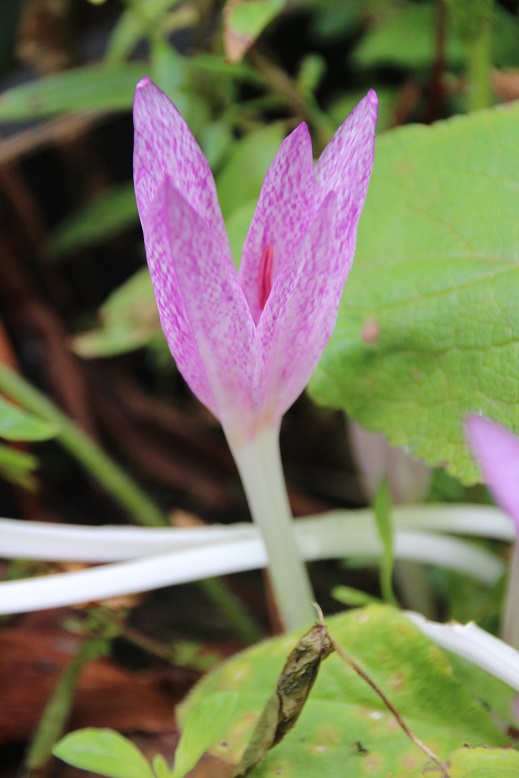 11th September 2016
Colchicum agrippinum .
What happened to the long indolent days of summer when everything happened with time to spare. Oh yes. I got old. Bugger that for a game of soldiers.
In July I bit the bullet and ordered some more Colchicum. Last weekend they arrived and I spent a cold, windy morning planting them under the trees. It is a rush to get them in before the flowers appear, already the buds were swelling at the base of the bulbs. I went up there yesterday to see if I had any flowers emerging but there is nothing, and I am relieved. I got them in just in time.
Walking back down the hill, I had forgotten my little clump of C. agrippinum, a tiny flash of mottled lilac pushing through the undergrowth. There are a few other cultivars scattered around the place, mostly tucked under the skirts of shrubs. They will remain scattered now that I have underplanted the trees. There will be an astonishing autumn spectacle. I am nervous and hopeful. Rushing around to a deadline has made me twitchy.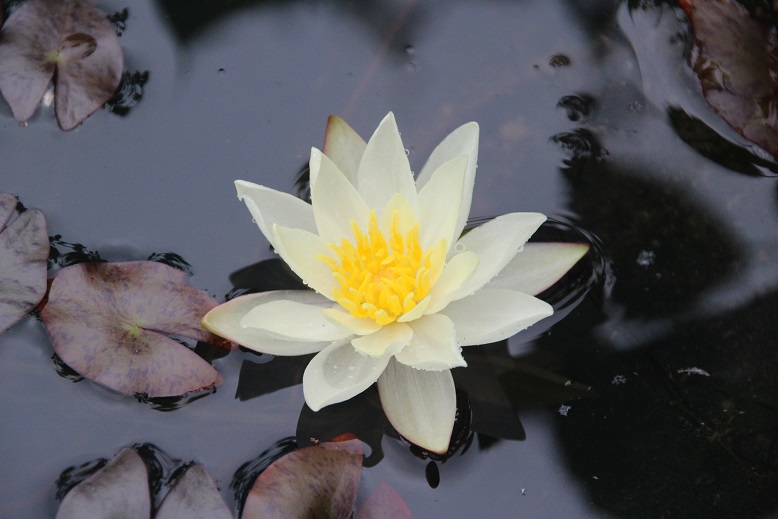 11th September 2016
Nymphaea 'Pygmaea Helvola' .
One of the dangers of rushing around the garden is failing to see the wood for the trees. Doing it in the late evening has the added danger of failing to see the trees. Ten days ago I ran smack into one, getting some spraying done while the air was still. The fact that I could no longer see the undergrowth I was spraying hadn't stopped me, it took an un-noticed tree. Time to stand back and hope for a sense of perspective, or at the very least a warm bath.
Water Lilies have a summery opulence that I enjoy. They say to me "Of course you can be ridiculous, look at me, it is wonderful!".
I don't have any suitable water in the garden, so it would be foolish to grow Water Lilies. Well, except perhaps for a pygmy one in a bucket.
N. 'Pygmaea Helvola' has surprised me by putting up with modest accommodation for several years. I have started to worry that the bucket is becoming brittle in the sun. The occasional flower is sufficient payment for the effort I put in. It would bloom more freely if I remembered to feed it occasionally. This years treat, by way of a thank you for years of miraculous tolerance, will be a better bucket.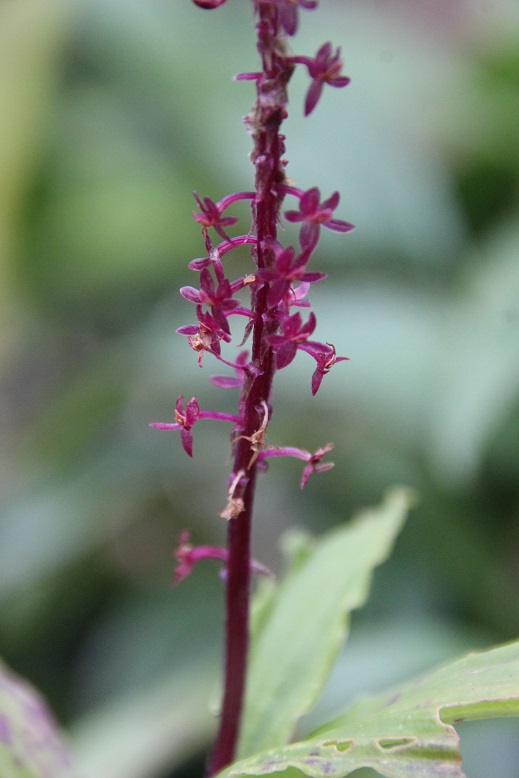 11th September 2016
Malaxis porphyrea .
Ignorance is bliss. I get far more pleasure from the things I don't know than the things I do. Perhaps I just get less aggravation, but it amounts to the same thing. Presented with a sprig of evergreen leaves during the week I looked at it with blank and joyful incomprehension. A gentle voice over my shoulder suggested perhaps "Myoporum laetum" with a quiet confidence telling me that the uncertainty was modesty rather than doubt. New things are discovered in the strangest ways.
A couple of years ago at an orchid show, I found four small plants I wanted to try and the offer was five for £20. Enter Malaxis porphyrea, unlooked for makeweight in the transaction. It has tumbled a little beyond its best this week, but I am determined to include it for the unexpected joy it has delivered.
The Cochise Adder's-mouth Orchid is native to Mexico, but extends north into Arizona and New Mexico so it should tolerate the cold. I have it in the greenhouse to make sure it gets a warm summer and it came through last winter without trouble.
I am quite sure that I would never have come across it by studying tiny orchids, it is just the gift of a whimsical universe.
A very personal gift I like to think, specially chosen for me!