JEARRARD'S HERBAL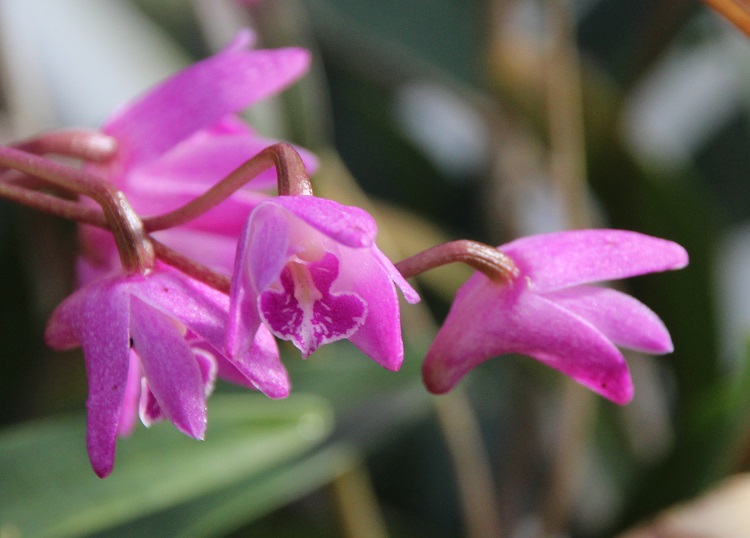 29th April 2018
Dendrobium kingianum .
Warmth in the greenhouse is starting to cheer things up. After the frosts in March many things in the greenhouse have been dying back slowly. The Dendrobium kingianum forms are a good example. In the days immediately following the freeze they had a few browned leaves but in the following weeks more and more died off and some of the canes started to shrivel. I don't know what caused the problem, it might have been damage to the vascular system, but it took a few weeks for the extent to be clear. In the warmth, six weeks later, I think the die-back has stopped. I have been cleaning out dead leaves and old canes because although it seems impossible, flower spikes were hardly damaged.
Many of the Clivia have responded in the sasme way. The rosettes of leaves have gone but there are flower spikes coming up through the centre of the crowns. Now comes the difficult decision of whether to leave them to flower and hope for seed, or cut the flowers off and hope the crown recovers better. It probably all comes down to time anyway. If I get any, something will be done.
Rain on Friday provided some welcome reassurance that we weren't about to plunge into a late spring drought. There must be some dry weather out there somewhere. Perhaps it will arrive in summer and give us one of those years that live for decades in the memory filled with ice cream and long evenings.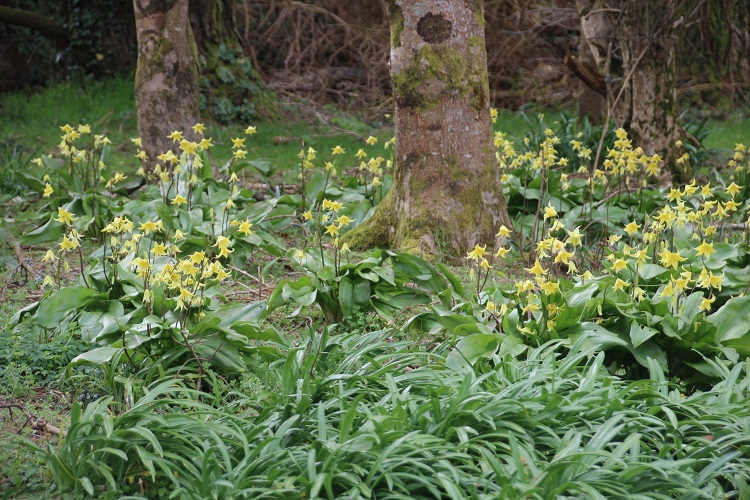 29th April 2018
Erythronium 'Pagoda' .
I expect the Erythronium to have a 'moment'. They will be in flower for three or four weeks but like good summers, there will just be a short time when they are unexpectedly perfect and the memory of it will colour my expectations ever after. They have been in flower for a couple of weeks now but it hasn't been quite right. Too few flowers open, dark skies or drizzle. Last week they were good but they weren't perfect. That moment when you look at them and say to them ok, you can relax, you've done it.
So I visit them in hope most days, just to see. By next week I think the oldest blooms will have started to fade and the whole thing will look like the discount shelf at a supermarket. Price reduced for a quick sale, but still fresh! Fresh and only a little bit tired, just enough to banish the chance of perfection. Perhaps it won't happen this year. The clumps of leaves are increasing and with them the promise of next years perfection. It always dangles tantalisingly just out of reach. As I write this the meterological brush paints a beautiful band of sunshine over the view into the garden. I should stop. I should go and see. That might have been it!

I went of course. I am unable to resist the allure of Erythronium. I'm so happy.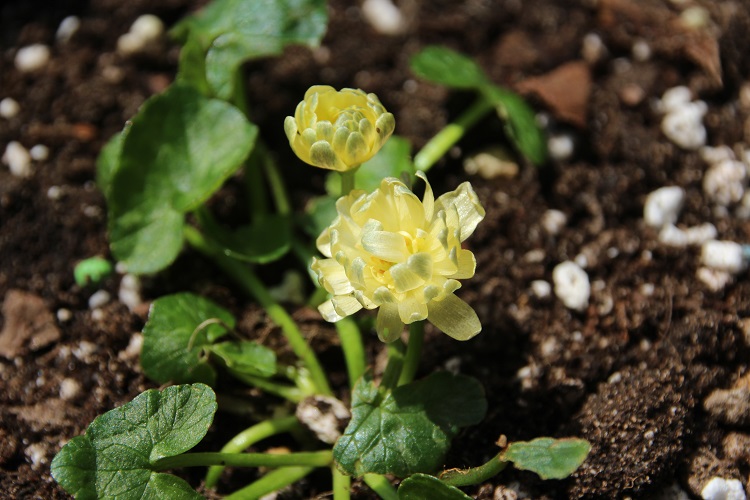 29th April 2018
Ficaria verna 'Double Mud' .
The problem with perfect moments is that they are never quite what you expected.
The Erythronium 'Pagoda' are looking lovely scattered over the ground like a pile of playful puppies, all tiny tails and wagging enthusiasm. Threaded through them the Anemone nemorosa seedlings are shining. There is no other word for it (though I will plagiarise this experience a hundred times in the future, I am sure, and I will find other words just to disguise the duplication). The open flowers face the sun and among the drowsy dappled light under the trees they shine. It is a moment to stand and let the mind go blank, its contributions will not be required. A very lovely moment, the last time it happened to me I smiled as thought faded away and when I slipped back into attention I was grinning like an ape at a sheet of white expanded polystyrene, the mottled markings like ancient parchment filled with strange magic as the light shome through it.
I wanted insulation, and for a perfect moment I was insulated.
A very lovely moment but it was the unexpected that made it perfect. Ficaria verna 'Double Mud' in the grass at my feet. Not even unexpected really, more a hope that had been abandoned. I grow all of the Ficaria collection in pots and there is a rhythmn to pots like the slow breathing of unmeasured ages. I have lived with my greenhouse for thirty-five years and I have just started to feel it. The Ficaria grow in pots, then when they were done (it's an intangible thing) I planted them all out. 'Double Mud' went under the trees where the Eyrthronium are. That was decades ago, slowly the garden breathes in and they start to return to pots. Just the doubles this time, but they are returning. Unfortunately 'Double Mud' eluded me. I know it is there and I have had half a dozen attempts to recapture it, digging up promising clumps of leaves, hoping for a flower. Throwing out the disappointment a year later. After all the searching in the missing years, suddenly there it is my old friend at my feet, emotions untouched by time. Unexpected, and perfect.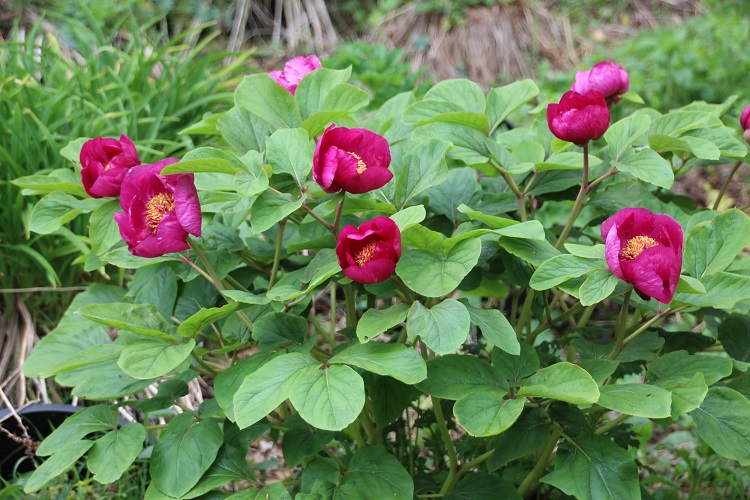 29th April 2018
Paeonia mascula ssp. mascula .
Now if there is a single genus that delivers perfection with the reliability of a digital clock it is Paeonia. Not that I still have faith in digital clocks. I went away to Dorset on Friday night. I had an early meeting on Saturday and couldn't face the thought of an early start. On the journey up my phone went flat, I couldn't buy a charger and it was the only clock I had with me. Pardon the phrase. Bugger!
So I went into a well known continental discount supermarket and bought a cheap digital clock. Sets itself automatically against the radio time signal, technology is delightful. I switched it on, set the time and thought no more about it, woke up the next morning, went to my meeting allowing half an hour for a cup of coffee to wake me up, and discovered I was an hour and a half early. During the night the clock had used the radio signal to automatically reset itself to the Central European time zone. As I say. Bugger.
Peonies are like that. Perfect, regular , reliable but you do have to pay close attention to the details. I don't think I can grow the P. lactiflora forms here, they like the sun too much. I am trying some in raised beds, but I don't think we get enough summer heat. Those I have in the garden produce leaves but as soon as the growths emerge it is clear there are no buds among them. As a result I grow a number of other species and some of them are improving year-on-year.
This one is Turkish, I feel I should check the time zone.