JEARRARD'S HERBAL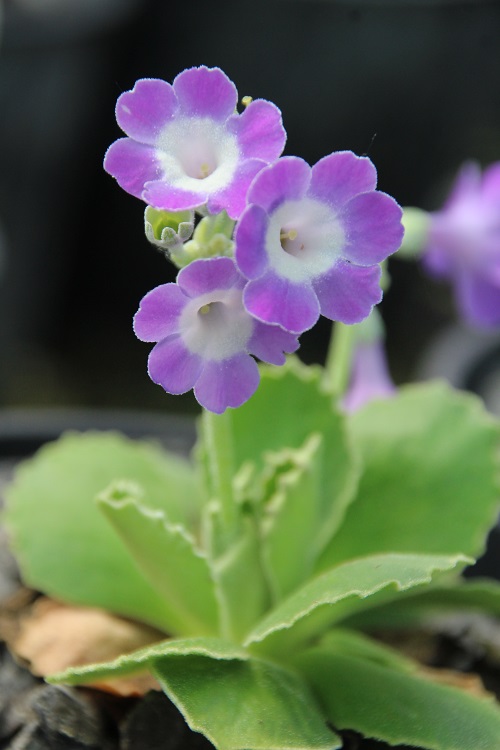 17th May 2020
Primula 'Wharfedale Blue Bell' .
A cold wing has ripped through the garden all week. I am still cutting down trees and opening up space and this week I have noticed the wind whistling around me as I work. I have also noticed the reduction in shade. I wear a hat, but the garden still feels very bright. As I squint into it I try to remember that this was the reason for the work. An attempt to drive the demons of darkness back into the shadows or failing that let the plants have a little more light. The evergreen azaleas have been the first to benefit, the colours brightening as they are revealed. 'Rosebud' immediately responded by wilting. There isn't enough water in the ground to keep the petals turgid but removing the trees will help ultimately - we need more rain to make any immediate difference.
In the greenhouse Primula 'Wharfedale Bluebell' has flowered. Raised by Alec Stubbs in Grassington, it is the last flutter of flowering activity from the alpine primulas. I had promised myself time to pollinate a few this year and raise some seedlings of my own, a promise that came to nothing. I will now hope thet the bees have been busy on my behalf and that there may be a few capsules of seed developing. I'm not expecting anything very special, but I like the idea of seeing the process through from seed to flowering. Success would make me feel curiously competent!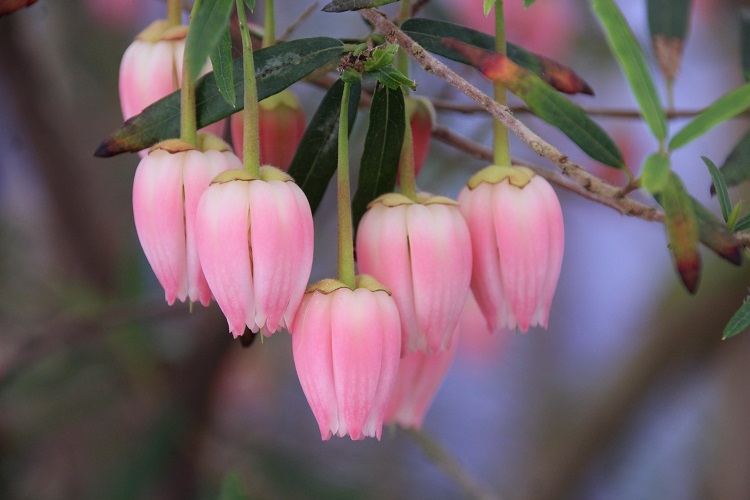 17th May 2020
Crinodendron hookerianum 'Ada Hoffman' .
Astonishingly there has been some time between bouts of tree felling to work in the Hedychium house. I planted a lot of the Hedychium out last year with ruthless determination. Determination because I wanted to get on top of the Hedychium chaos. Over the years the house has filled with vegetable clutter and it felt like it had taken over. Ruthless because I wasn't very selective. The first plants I came to got planted out, suitable or not. I had to make space. I didn't get far, there are still about a hundred in there but I made enough room to manoevre. Everything else that could be planted out has been, the place looks almost civilised.
Crinodendron 'Ada Hoffman' was put in there as a young plant in a pot to grow on a bit. I have killed it outside before and wanted an established plant before I tried again. It has established, rooting through the bottom of the pot. It is now nearly 3m tall and it will have to be moved, a process that it will not appreciate. It will be cut back, dug up and left to take its chances outside. At least it will be when it finishes flowering. I have a couple of weeks to work out where it is going and to hope for some rain because fair weather or foul, it is moving.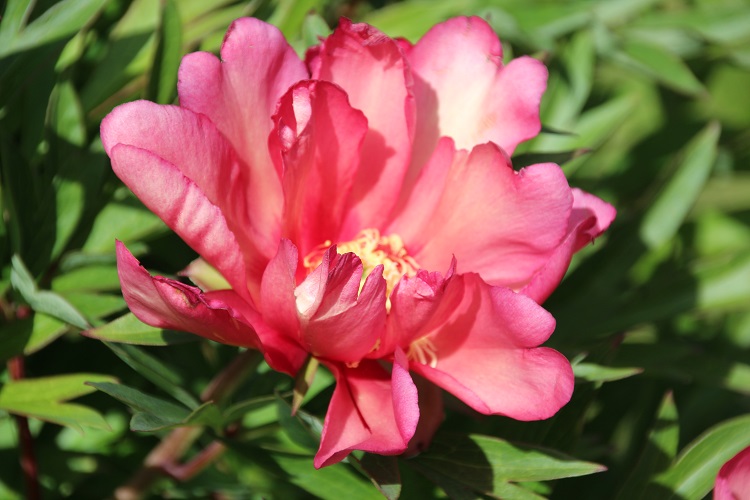 17th May 2020
Paeonia 'Julia Rose' .
When I first planted the herbaceous border, 20 years ago now, I included some herbaceous peonies just to see what happened. The answer was, nothing much. However the peony seed had started to grow in my mind and, coincidentally, also in a number of pots in the greenhouse. I had been acquiring seed of the species and a few of them have been really good in various places, most notably the Agave house but a couple have been good outside as well. I have a new herbaceous border that is slowly slipping from the planning stage into reality. I have just planted a lot of surplus P. lactiflora forms into it, a wild, spade-based speculation.
In the time between the first herbaceous border and the second there has been a peony revolution. The intersectional hybrids have not only become available but they have become cheap enough to be worth a gamble. I have planted a few in what I will refer to as 'raised beds' (dustbins full of compost). They seem to be thriving. They don't have the opulence of tree peonies or the scented excess of the herbaceous forms, they are intermediate, quite pretty, quite fun. Importantly they seem to be growable, at least in the sun.
This was the first one I tried, it may well be 'Julia Rose', it had lost its label by the time I got it and was very cheap as a result which suited me well for a trial. It has grown well, filling its 'raised bed' with foliage and producing a decent number of flowers in interesting colours.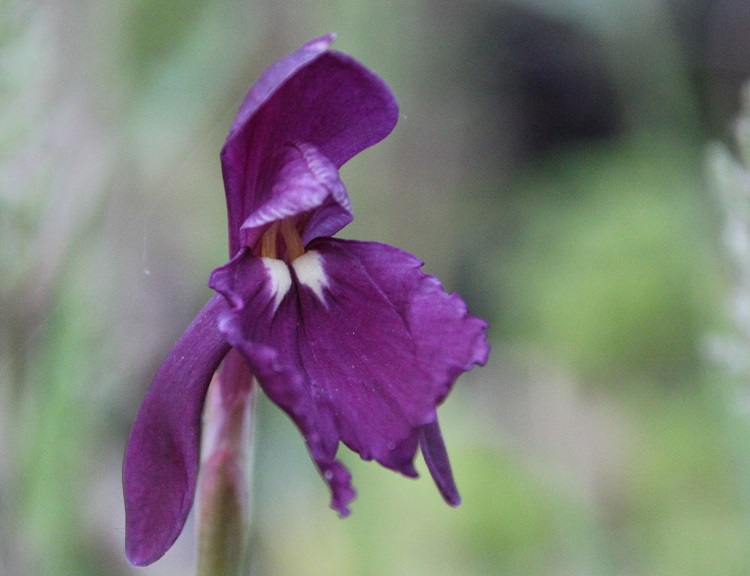 17th May 2020
Roscoea cautleyoides 'Pennine Purple' .
The primulas have been wilting out of flower as the warmth of summer hits the greenhouse, the dead petals crumpling like brown paper as they crisp and dry. I remove them as I can, hoping to find some fat green capsules of seed behind the withered display, hoping the bees were as enchanted with the flowers as I was. The Auricula's are starting, so the season hasn't ended but they are big and loud and I'm still not sure I can grow them so my commitment is cautious. It may be that the vine-weevil love them more than I do.
On the next bench the first Roscoea have burst from the compost, reminding me that it is time to keep them watered. It was also time to weed through the pots but it hasn't happened. Perhaps I will have an idle afternoon in the week to take a cup of tea down to the greenhouse and pick through them at leisure.
R. cautleyoides 'Pennine Purple' is fairly new in the collection. It was beaten into flower by 'Early Yellow' but there was only a day in it. A good deep colour, it has started the Roscoea season off with some drama.
During the week I ordered some shade netting to protect the greenhouse from the heat of the sun. It feels as though that might be enough to provoke a month of rain. It would be welcome (night time is best - no pressure, I'm just saying).