JEARRARD'S HERBAL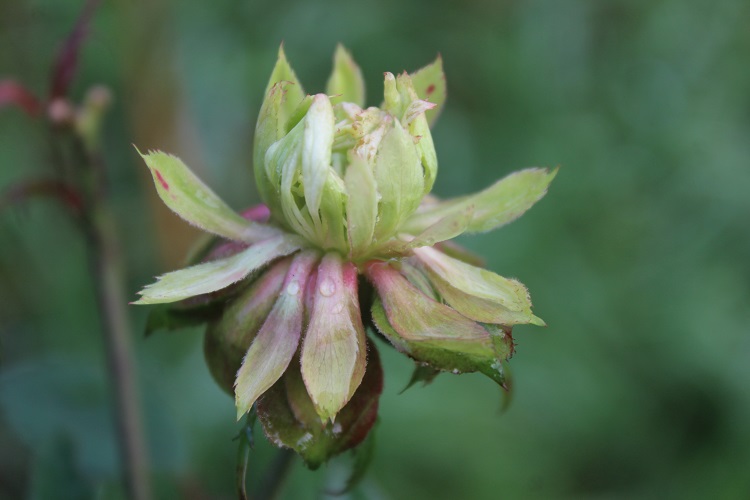 12th December 2021
Rosa x odorata 'Viridiflora' .
Last weekend the garden was grey. The storms had passed over, the leaden leaves had dropped from the trees and a leaden sky looked set to follow their example. A squirrel taunted me with a cheeky bounce along the ground, knowing that it was too fast for an old fossil like me. This week there were two of them. I looked at them hungrily. I wouldn't want to eat one but I'm happy for them to get the impression that I might.
The rain has continued in bursts this week but it has been sparkling rain, caught between the dark clouds and the revelation of sunlight. It may have been travelling sideways at 50mph on occasion but it had brio and charm. It had none of the anesthetising gloom of the storms. If you were foolish enough to stand in it, it had sting.
The garden looks brighter as a result. I had flowers on Rosa x odorata 'Viridiflora' last week, looking grey and dejected in the obscuring dullness. This week they are looking brighter, greener and more attractive. It's a relative thing.
The rose is a bit feeble at this time of the year, it's a bit feeble throughout the year, but in some ways this is its best season. The flowers are green and, in a loose sense, flowery. During the summer they are larger, more misshapen and tending to the colour of rust. A summer buttonhole might remind you to take a plastic bag with you when you walk the dog.
You get the idea.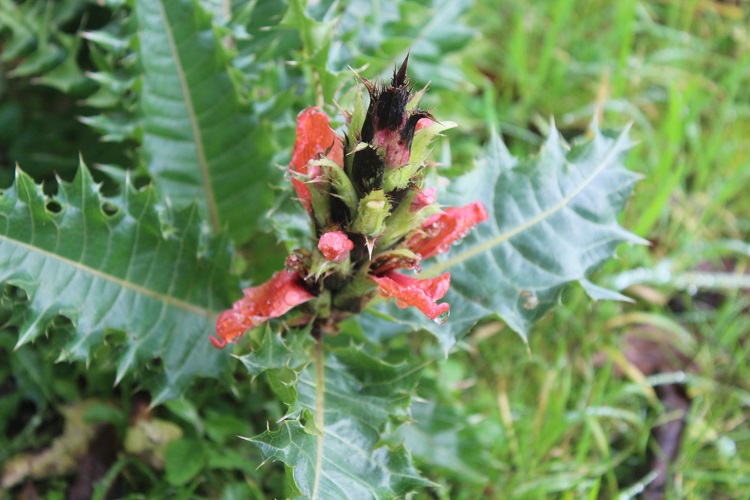 12th December 2021
Acanthus sennii .
Last week I thought that the garden had finally been finished for the year. The first serious storms of autumn had blustered through and laid waste to it, leaving only the hope that the detritus would have time to settle properly before spring sprung. I should have more faith. Sometimes it is difficult.
A few years ago I sacrificed a derelict conservatory in order to restore a narrow border along the south wall of the house. It was to be the most protected, warm and sunny spot in the garden. I celebrated by planting it with an assortment of protea. They all died in the Beast from the East. I have replanted one or two, the stem may be weak but the spirit is willing. I have also indulged myself in some more practical planting. I grow Acanthus sennii in the Agave house where it is too dry. It straggles around more like a trailer than a shrub. I have repeatedly rooted cuttings meaning to plant it in the garden but I keep giving them away. I'm a sucker for people with puppy-dog eyes who look like they are suffering from acanthus deficiency. Notwithstanding, I finally got one into the space left by a dead protea and finally I have flowers. I think that a frost in November would have stopped it but we didn't get one. In sunnier parts of the country I have seen it flowering in August and September but slow summer growth here means that I just about have it before the New Year. It doesn't matter, the one in the Agave house flowers freely. This one however flowers triumphantly. Exactly the same but distinctly different.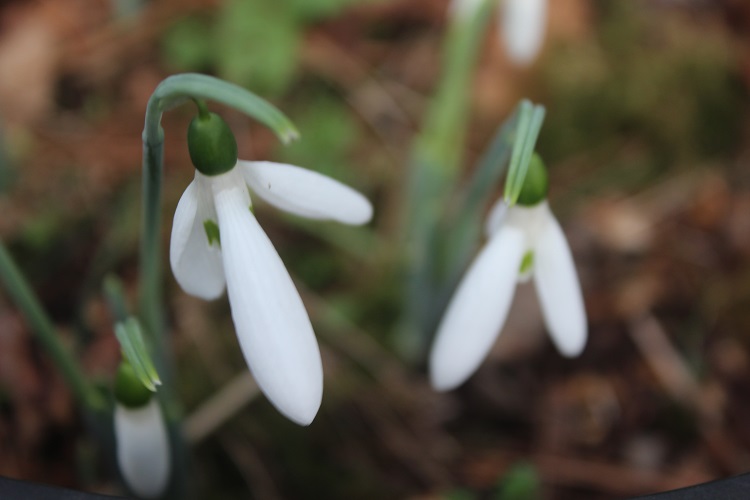 12th December 2021
Galanthus elwesii Hiemalis Group .
In the wake of the winds the garden looked dismal. The last leaves had been ripped from the Liquidambar and flung across the valley. Presumably someone on the other side was showered with scarlet magic from the storm-gods. I looked at the grey branches, shivering and naked in the gloom. I would have sung it a little lullabye to soothe its passage into winter sleep but I couldn't think of anything suitable. There doesn't seem to be a great canon of songs for Liquidambar, it's a sad deficiency. Amazingly the magic of autumn colour had a last trick up its sleeve, or at least behind its back. A few bright leaves had hung on to enliven the last gasp of autumn.
At the same time spring seems to have ventured a footstep into the garden. The very earliest snowdrops had been pushed in at arms length, an advance guard, victims to the rampant ravages of autumn. 'Remember Remember' and 'Santa Claus' were decapitated. Now I have a plant from the Hiemalis Group. It is looking confident, robust, able to break a smile of spring into the grimace of winter. Put more simply, it has formed a nice little clump. My plant is a little erratic, in some years it flowers before Christmas and in some years it waits until February. This appearance is timely, welcome and filled with promise for a snowdrop season to come.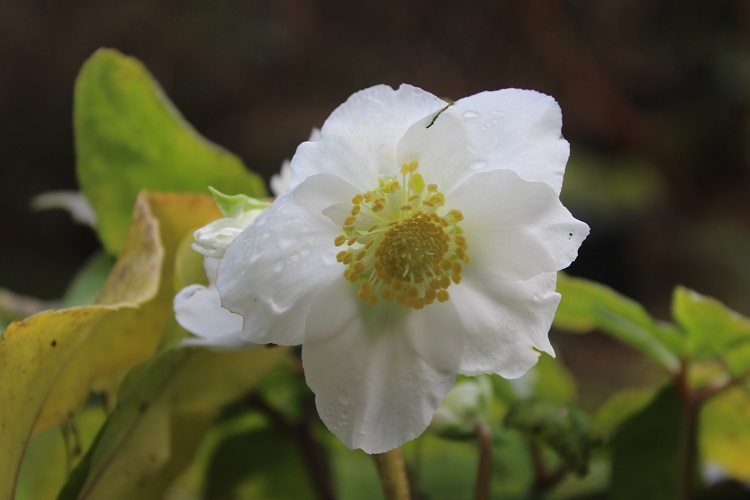 12th December 2021
Helleborus niger .
I was reviewing pictures from the garden earlier in the week. I found an image of a tub of white Impatiens growing by the front door. Some plants in the garden are part of a long term intent, some are just frivolous fluff. Some plants are intended for long term effect and turn into frivolous fluff. My proteas were an example. Others start as frivolous fluff and then persist. My white Impatiens were finished off by downy mildew. They were replaced about three years ago by a group of Helleborus niger that were only intended to cheer a few cold months but they are still here. I find it a difficult species to establish and I don't think I am alone. Commercial breeders have been selecting the species to give better performance in pots and to flower more reliably in season. It was time to try them again. I put four in this tub and three years later they remain. It seems to work, and I am too lazy to change it. It makes for a dull display through the summer but I am comforted by the secret knowledge that it is saving its glory for the moment it is most needed.
For a few weeks it will be gently comforting on the front step. I doubt the postman will notice but I like to think that some subliminal cheer seeps into him from its presence as he shoves junk mail through my letterbox. A gentle beacon against the takeaway pizza flyer.
The role of the Christmas Rose has changed, I wonder if that's what the breeders had in mind.