JEARRARD'S HERBAL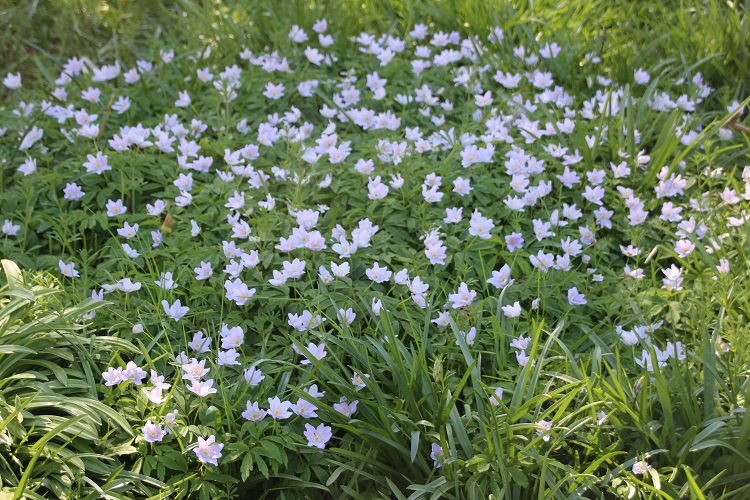 24th April 2022
Anemone nemorosa 'Robinsoniana' .
An overcast week without any actual rain. The garden has continued to dry out, helped by bursts of sunshine from time to time. There has been a sudden spurt of growth from the weeds. Last week the undergrowth looked tidy and wintery but this week the red campion flower shoots have started to grow upwards.
Under the trees the bluebell leaves have grown. It is a vigorous coloniser and there is hardy any bare ground showing. Most of the Anemone nemorosa planted under the trees have spread into thin networks, a flower here and a flower there, popping up singly among the bluebell leaves. A. n. 'Robinsoniana' has behaved differently, producing a dense carpet of growth. It seems to have out competed any bluebells that have sown themselves into the mat and it is making a dense display of pale blue flowers. I have some more Anemone to plant out this year but I must also remember to spread 'Robinsoniana' around a bit more, it has been the best plant by far in the circumstances.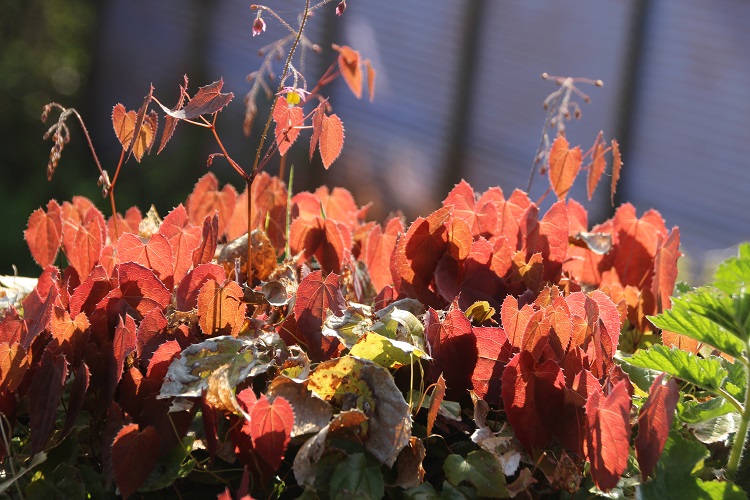 24th April 2022
Epimedium 'Wildside Ruby' .
The planting season is drying to an end. A couple of weeks ago I put out a Smilacina, a Trillium and a few other things. They all wilted shortly after but most have stood up again now. Presumably they have managed to make enough new root to take up some moisture. I'm not so sure about the Trillium which seems to have disappeared. I am hoping that I have just mistaken exactly where I planted it, the other option is that it has been eaten by a deer. I don't have much luck with Trillium, anything is possible.
I am hoping that there is still enough moisture to plant out some of the Epimedium, a job that I have been putting off for several years. It is the yellow flowered evergreens that need to go out, they have outgrown their current spot. I am afraid to move them because I can't really tell them apart. Once I move them I will forget which is which but perhaps it doesn't matter since I can't tell them apart.
'Wildside Ruby' is a recent introduction from Keith Wiley in Devon. The red flowers are unspectacular but the bright ruby red new foliage is amazing when it catches the light.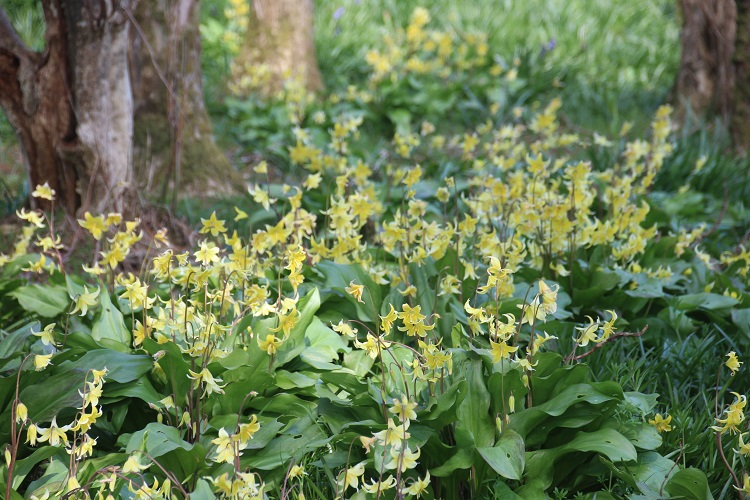 24th April 2022
Erythronium 'Pagoda' .
It was a dry spring for the Erythronium, for a while I thought that it might be a catastrophic year for them. The leaves were looking stunted and the early flowers didn't open properly. Although the storms in March did a bit of damage as they passed through the garden, they also deposited a decent quantity of rain and probably saved the Erythronium. The late flowering cultivars are still looking good in the border. They have appreciated the overcast weather. If it had been a hot, sunny week then they would have shrivelled. Now I am hoping that they last long enough to set a crop of seed.
'Pagoda' is the last cultivar to make an impact on the garden. I have a lot of bulbs planted under the trees and every year I hope the clumps will have grown larger and the flowering be more spectacular. I think they have been held back a bit this year. Perhaps it has been too dry, perhaps the bluebells have grown too thickly. I need to spend some time up there pottering around and thinking about it.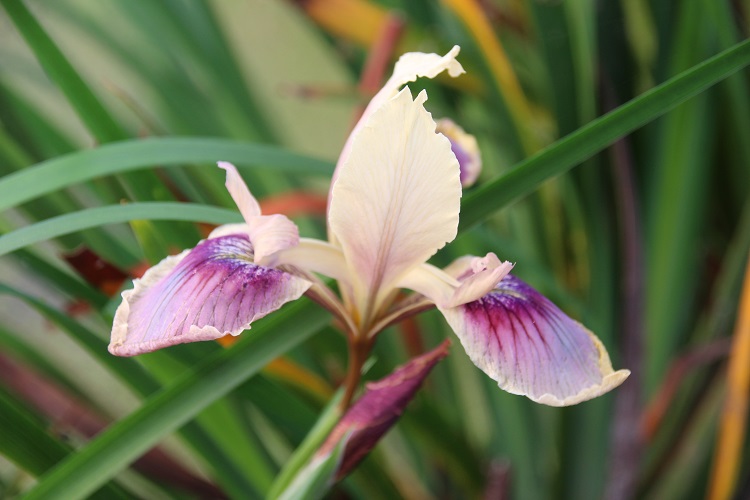 24th April 2022
Iris 'Broadleigh Lavinia' .
In the greenhouse spring has started to transform into early summer. The dahlias have started to grow, the early primulas have finished and the auriculas are in flower. I have a short section of bench dedicated to Pacific Coast Iris and the thrill of the week has been popping down in the morning while the kettle boils to see what new flowers have opened.
Although I had grown a few cultivars previously, my real interest in Pacific Coast Iris didn't start until I got some seed collected from I. 'Broadleigh Lavinia'. Since I didn't grow the parent at that time I didn't know what to expect from the seedlings. They have been flowering for a few years now and show a fascinating range of colours in shades of buff, purple and lilac.
One of the delights of last autumn was to receive a fan of Iris 'Broadleigh Lavinia' from Broadleigh Gardens and this is the first flower. The strange mix of colours goes some way to explain the seedlings although it doesn't explain the white one which will remain a mystery.