JEARRARD'S HERBAL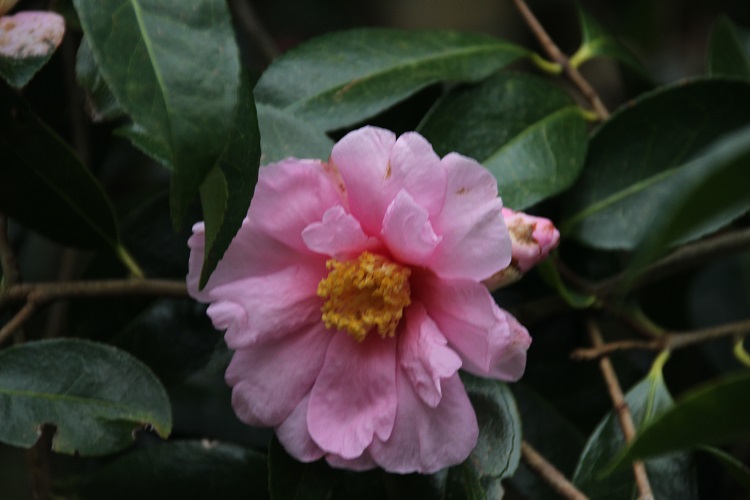 23rd February 2020
Camellia 'Show Girl' .
I have been demolishing my old workshop, a process that has been going on for some years now. If I get a spare day, I nibble a bit more away from the edges. Slow progress, but it is progress. Ten years ago I abandoned the building, and the garden has posesed it. Not in a charming way, more like a ruthless territory grab. The brambles have knitted together all of the decaying parts and an old Leyland Cypress has shed some spare trunks onto the roof, buckling the walls in the process. It has become a hazardous building and progress is slow and careful. The garden is only letting go of the building slowly and winter is letting go of the garden with similar reluctance.
I was lucky to get a dry day yesterday to work on it, winter is having a tantrum in passing, storming through the garden and even threatening snow for next week in some forecasts. I think that is a mistake, I am sure that is a mistake, I am confident that is a mistake. I may have to eat my words next week. It is difficult to let go of things.
Camellia 'Show Girl' is experiencing the same problem. She has been dancing along the branches every day since December last year, dark rings are showing around her eyes. She should probably stop now, but its hard. There are plenty of buds still to come but she looks as though the smile is being held in place by the make-up. 'Show Girl' is one of my favourite Camellia, the first flowers warn winter that the writing is on the wall. It's time for both of them to give it a rest.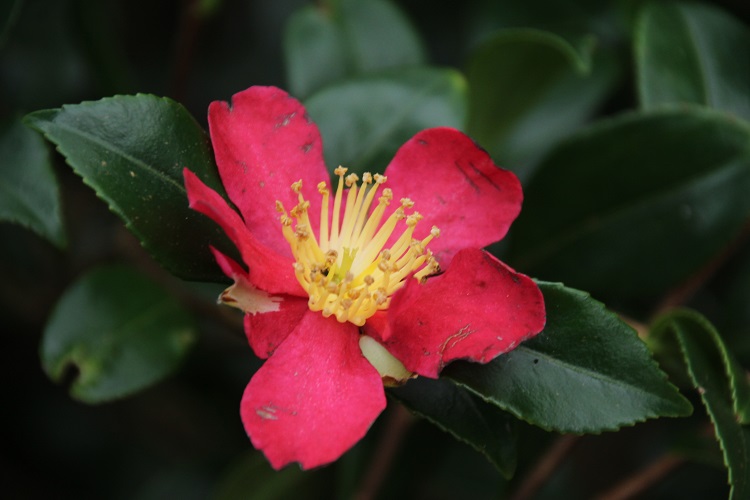 23rd February 2020
Camellia 'Yuletide' .
Camellia 'Show Girl' works too hard but 'Yuletide' carries things to the other extreme. I first saw it in a garden centre during December, the small red flowers providing a splash of pre-christmas colour that I didn't even try to resist. I picked up the plant as I walked past it, barely needing to give it a second glance. That's coming home with me, no question about it. As is so often the case around Christmas, it was more presentation than performance. In the garden here it has been less impressive. Deprived of the warmth of southern Europe (where the potted ones usually originate) it has been less floriferous and waited until the end of February for the start of Yuletide. Santa would be so disappointed.
I will admit that I haven't helped it, planting it where it will be shaded by evergreens through the darkest days of December. It would prefer to be in the sun. I know that now, but didn't when it was planted. A chance seedling from 'Hiryu' raised by Nuccio's Nurseries in Altadena, California and first flowering in 1959, it has both C. sasanqua and C. japonica in the mix. The former parent gives it the sun loving nature and the potential for early flowering, the latter adds the reluctance to actually do so.
It's a damp squib but I wouldn't want to part with it. A few flowers in February make me laugh at my own foolishness as much as anything else. I could always move it somewhere more suitable and see what happens. It doesn't grow very fast, I don't have to rush things.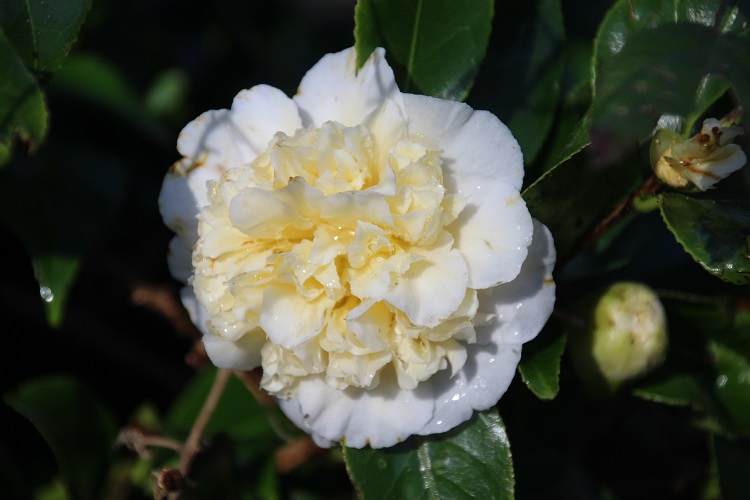 23rd February 2020
Camellia 'Brushfield's Yellow'.
From time to time I rant about the pinkness of Camellia. Even the red flowered cultivars have a blue suggestion running through them. Now under normal circumstances a blue suggestion can be relied on to liven-up events, but with Camellia it falls flat. Perhaps, like 'Show Girl', they have been doing too much for too long. I adore the white Camellia just as a relief from the perpetual pink and am prepared to forgive the inevitable and rapid descent into the brown of decay. Moral turpitude aside, they don't stand up well to the weather.
'Brushfield's Yellow' abandons all pretence of white and goes straight to yellow. The progression to brown is rapid and inevitable but it doesn't show as badly in the early stages. The later stages are despicable, and the bushes are reluctant to shed the evidence of decay, another case of the difficulty of letting go.
I can't tell the difference between this and 'Jury's Yellow'. An internet search for images shows a range of flower characteristics spread more or less evenly between the two names.
Perhaps it doesn't matter, both are dense growing rather upright cultivars. 'Brushfield's Yellow' raised by Keith Brushfield in New South Wales in the 1960's, 'Jury's Yellow' raised by Les Jury in New Zealand around the same time. Both seem to be seedlings of 'Gwenneth Morey', the first of this group of "yellows", raised by Dr B. R. Morey in Australia and flowering in 1961.
'Gwenneth Morey' must have been quite a surprise, as it was a chance seedling from the pink 'Edith Linton'. I can't quite escape the word "strewth"!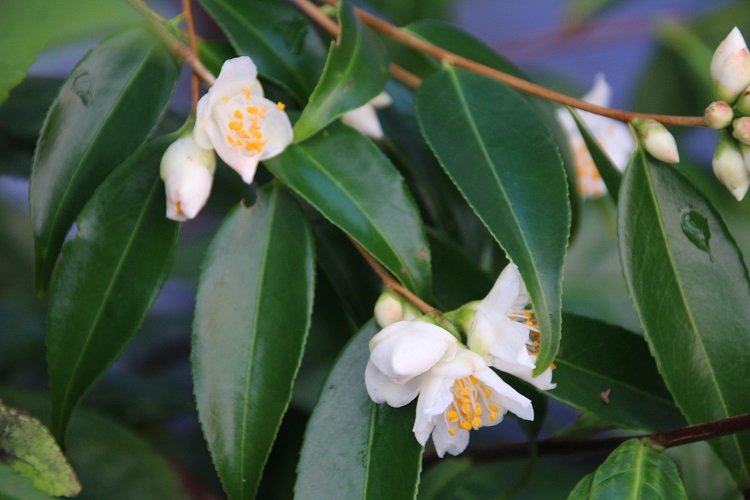 23rd February 2020
Camellia cuspidata .
The big pink flowers of Camellia tend to obscure their usefulness as evergreen shrubs. It seems almost disrespectful to think of them as efective windbreaks, but it is a job they perform admirably. The strong, evergreen leaves and dense growth are almost ideal. Why would anybody plant a hedge of Cherry Laurel when they could have a much more manageable Camellia? There is the pH thing, of course but the real problem is those wretched flowers. How can you possibly clip a hedge in summer when you might be cutting off all of next years buds. It isn't actually important, trimming in July or August before the flower buds form will keep a hedge tidy for most of the year and it will still (heaven help us all) turn pink in spring.
Camellia cuspidata does away with the problem of pinkness, the small white flowers weigh down the twigs like a late snowfall. Unfortunately it is a less tidy evergreen shrub with an urge to long, erratic growth when young. It settles down to blobbishness eventually, all is not lost. I have been meaning to raise some hybrids from it, but like all of these things the time, the urge and the pollen do not coincide very often. It is a bright idea, but one more thing that I should probably let go of.
The spring sunshine has returned. Less philosophy, more demolition.